By: Justin Hunter, Agronomy Sales
Soybean cyst nematode (SCN) is one of the most damaging pests soybean farmers face in Iowa, but few realize it. Its symptoms mimic those related to stressful environmental conditions and many other plant disorders – stunted plants, chlorotic leaves, and/or poorly developed root systems. To make things even more challenging, no visual aboveground symptoms are often present. It is no wonder why some farmers are left scratching their heads after lower-than-expected yield results. So, the question stands: what is SCN and is there anything we can do to combat it?
SCN is a plant-parasitic roundworm that feeds off the crop by robbing it of essential nutrients. Its life cycle starts as an egg, then goes through two juvenile stages before entering adulthood. Much like that of humans, these immature juveniles can cause a lot of problems. The juveniles infect soybean roots and begin the feeding process. The males feed for a few days and then leave, but the females remain attached, eventually swelling into small, lemon-shaped cysts. These cysts can be seen by the naked eye and may contain up to 500 eggs. Up to six generations of SCN can occur throughout the growing season.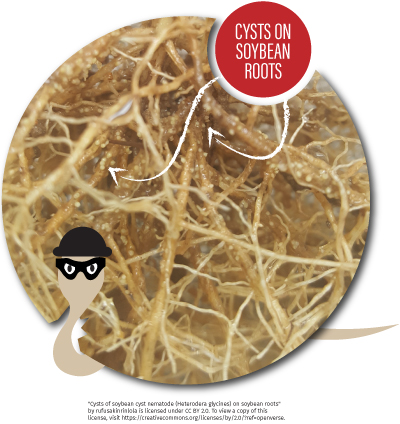 Soybeans may experience 50% or more yield loss in high populated areas. The first step in determining whether SCN is causing a yield impact is to take soil samples. Fall is an ideal time to take samples and send to the ISU Plant and Insect Diagnostic Clinic to receive an egg count. This egg count will determine population levels which can be used to make an appropriate action plan for the next growing season.
The good news is that there are ways of managing SCN at a profitable level. Crop rotation along with planting resistant soybean varieties are two of the most effective control options. The two most common SCN resistant breeding lines are PI 88788 and Peking. PI 88788 resistant varieties have historically been the most common, but they are now becoming less effective as time goes on. Peking varieties are recommended to not be used repeatedly because they, too, will begin to lose their effectiveness if used year after year. Seed treatments such as ILeVO and Saltro are also viable options as they both have activity on SCN. Managing this pest is not a one-size fits all approach, but with a strategic plan, this "hidden yield robber" can be kept at bay.
Sources
Iowa State University Department of Plant Pathology. (2022, July 8). Management of scn. Soybean Cyst Nematode. Retrieved from https://scn.plantpath.iastate.edu/management-scn
Iowa State University Extension and Outreach. (n.d.). Soybean cyst nematode. Integrated Crop Management. Retrieved from https://crops.extension.iastate.edu/soybean/diseases_SCNbiology.html
Tylka, G. (2021, October 20). SCN-resistant soybean varieties for Iowa in 2022. Iowa State University Extension and Outreach | Integrated Crop Management. Retrieved from https://crops.extension.iastate.edu/cropnews/2021/10/scn-resistant-soybean-varieties-iowa-2022