By: Erin Kolstad, Syngenta | Photography by: Mark Zhu
Like a lion lurking in the grass, bracing to pounce, sudden death syndrome (SDS) could be lying in wait in soybean fields — invisible until it's too late for growers to defend their yields. This devastating disease infects the plant early, but detecting infection before symptoms typically appear late in the season can be difficult.
"SDS is a very emotional disease for growers because they've grown their soybean crop for months; and when those canopy symptoms show up in mid-to-late August, it's very sudden," says Dale Ireland, Ph.D., a technical product lead with Syngenta Seedcare™. "You could think you have a very good crop, and then suddenly the leaves become chlorotic and begin dropping off prematurely, which can significantly affect yield."
Second only to soybean cyst nematode (SCN), SDS ranks as one of the most detrimental soybean afflictions for U.S. growers in terms of yield loss. Each year, SDS destroys an estimated 25 million bushels of soybeans,1 which is nearly $245 million in yield loss for growers2.
"SDS is a unique disease with symptoms that occur typically in the late reproductive stage," says Jason Bond, Ph.D., a professor and plant pathologist at Southern Illinois University. "However, what's causing those symptoms is the pathogen hiding in the taproot that infected those roots soon after planting."
That's why the availability of a better, more powerful seed treatment from Syngenta that starts protecting soybeans from SDS at planting is such welcomed news.
Upgraded SDS Protection
Saltro® seed treatment, which recently received registration from the U.S. Environmental Protection Agency, contains the highly effective SDHI fungicide Adepidyn®. Starting at planting, Saltro will help protect soybeans from SDS pressure to preserve yield potential, without displaying the damaging side effects of phytotoxicity.
"For the first time, growers have a more powerful seed treatment option for protecting their soybeans against SDS and nematodes," says Paul Oklesh, product lead with Syngenta Seedcare. "Unlike the status quo, Saltro does it all without exhibiting the effects of plant stress above or below the ground. With more power against SDS and no early plant stress, Saltro will help soybeans finish the season stronger."
The Scorch of Early-Season Stress
Under high SDS pressure, Saltro also provides a statistically significant 3-bushel-per-acre yield increase over ILeVO® seed treatment3.
One of the most beautiful sights to a soybean grower is clean, uniform rows of green plants stretching for acres into the horizon. A healthy crop is often a source of pride as his or her neighbors drive down the road, admiring the results of diligent, season-long management. One of the best ways to end up with a uniform stand is to start out that way at emergence. The last thing growers want to do after carefully selecting their genetics is treat them with a seed treatment that stresses soybeans and causes visible damage.
Phytotoxicity is a toxic effect on plant growth by a compound. The physical expression can manifest in many ways including, but not limited to: chlorosis (yellowing), necrosis (tissue death), stunted growth, loss of plant stand and even plant death.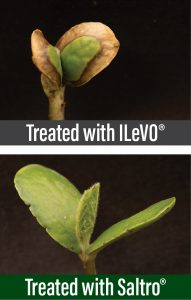 Until recently, growers have only had one seed treatment option to protect against sudden death syndrome (SDS), ILeVO® seed treatment. Soybeans can have difficulty metabolizing the active ingredient in ILeVO, fluopyram, resulting in a situation that often leads to phytotoxicity on the cotyledons of ILeVO-treated soybeans. This development causes unnecessary stress on the plant during the critical early-growth stage that can affect yield potential. While soybeans typically "grow out" of these early signs of stress above the ground, the lasting impact on root development and yield potential can linger through harvest.
"While ILeVO has good efficacy against SDS, it also has a little baggage," says Dale Ireland, Ph.D., technical lead with Syngenta Seedcare™. "ILeVO- treated soybeans may eventually appear to
recover from the early-season plant stress above the surface, commonly known as the 'halo effect.'"
However, Ireland notes that below the ground, a stunted root system can remain. "For a seed treatment to be effective, you want it to be efficacious," he says. "But you also don't want it to hold back, hinder or negatively impact any growth and development."
Unlike ILeVO, Saltro® fungicide seed treatment- the new SDS offering from Syngenta- provides superior SDS protection without the stress, as well as robust activity against nematodes, including soybean cyst nematode (SCN).
While SDS- and SCN- resistant varieties help protect against these pests, the right seed treatment offers the added protection soybeans need to help reach maximum yield potential.
"If you're a soybean grower, you shouldn't have to give up early plant health to get SDS protection," says Paul Oklesh, product lead with Syngenta Seedcare. "Until now, growers have had limited choices to protect against SDS and nematodes. With Saltro, growers have access to an upgraded solution with more power to fight SDS and nematodes, without the stress."
The Cause of SDS
To evaluate the impact Saltro may have on the 2020 U.S. soybean crop, it's important to understand the root cause of SDS. The fungal pathogen that causes SDS — Fusarium virguliforme — lives in the soil and infects soybean roots soon after emergence. Early planting, cool soil temperatures, and high moisture levels can promote disease development.
Heavy rains and warm temperatures around soybean flowering may encourage foliar symptoms to appear. And, while the pathogen itself mainly stays in the roots, it produces a toxin that moves into the plant's parts that are above ground and causes foliar damage.
"There are a lot of Fusarium species that attack soybean and corn roots," Bond says. "The reason why farmers and the industry are so concerned with this particular Fusarium species is it causes that foliar scorch late in the year with moderate to devastating yield losses."
Being a good scout
While it's too late to take action once SDS symptoms appear, careful ground scouting above and below the ground can help growers identify hot spots and prepare for the next time they plant soybeans.
Noticeable foliar symptoms of SDS begin with yellow spots between the veins of the outermost canopy leaves and spread into chlorotic leaf scorching. Valuable leaves then become necrotic and detach from the plant, leaving petioles still attached. Other symptoms include the inner stem pith remaining white, flower and pod expulsions, root rot, and cobalt-blue growths on the outer root surface.
The timing of SDS symptom appearance plays a key role in total yield loss. "If severe foliar symptoms appear
in earlier growth stages, there is a greater chance for catastrophic yield loss because there is more time for defoliation and pod expulsion," Ireland says.
Proactive Protection for SDS
When it comes to SDS, growers need to use all the tools available to develop an effective disease management program. This could include:
Planting fields without a history of SDS first. Growers should plant fields with a history of SDS later because young soybeans are more susceptible to infection in the cool, wet conditions of early planting.
Reducing soil compaction. Purdue University Extension notes that tilling in known compacted areas may reducedisease symptoms by allowing the soilto warm more quickly during the spring4.
Having soil tested for SCN. SCN root-feeding allows the SDS pathogen to more easily enter the roots and infect the plant, leaving soybeans more vulnerable to infection.
Planting SDS- and SCN- resistant varieties. No soybean varieties are completely resistant to SDS, but partially resistant varieties are available. Because there is a known link between SCN and SDS, planting SCN- resistant varieties may also delay SDS onset and reduce disease severity.
Using an SDS seed treatment in combination with SDS-resistant varieties. "With the right seed treatment protecting soybeans from early infection, growers can significantly reduce the risk of late-season expression of SDS or even completely eliminate it," Ireland says.
Oklesh believes Saltro is that right seed treatment. "With more power against SDS and no early plant stress, Saltro will help soybeans finish the season stronger," he says. "And the payoff for growers at harvest will be a consistently higher yield potential. It's definitely an upgrade in SDS protection for our customers."
For more information, chat with Lucas Gillmore: 319.325.0697.
Sources:
1. United Soybean Board, "Wanted for Yield Robbery: Sudden Death Syndrome."
2. United States Department of Agriculture Economic Research Service.
3. Includes locations that exhibited 20% SDS incidence or more as measured by a local scientist. Syngenta Seedcare trials, 2015 to 2017, trial locations: AR, IL, IA, KY, MI, MN, TN, WI (a=0.1).
4. Purdue Extension, Field Crop Pathology, "Sudden Death Syndrome."