By: Ron Stutsman
Eldon C. Stutsman, Inc. has come a long way since my father started the company in 1934. What began as a milk route has now blossomed into Eastern Iowa's largest supplier of agricultural products, retail, and wholesale. It has been exciting to see the progression of the company and the industry as a whole, especially in chemical application technology.
As I watch the sprayers come and go this busy season, I'm taken back to the summer of 1964. Al McQuinn, the founder of Ag-Chem, was the distributor for Hahn. I bought my first 312 Hahn Hi-Boy sprayer from Ag-Chem salesman Jim Malaphy for $2,400. I paid down $600 and the rest was financed with a bank in Edina, Minnesota; three $600 payments. That bank loan was of great help.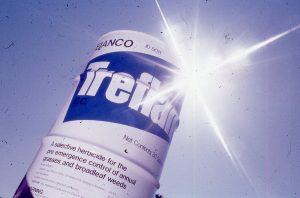 As I recall, we charged $1.25/acre, plus the cost of 2-4-D that summer. On a good day, we could spray about 100 to 125 acres. We stopped spraying after pollination was complete. Overall, the season typically lasted about 4 weeks.
The second year with the Hahn Hi-Boy we started spraying Treflan and Amiben pre-emerge for soybeans. This process was much slower going because the ground was softer. Plus, these chemicals had to be incorporated into the soil, so we couldn't work too far ahead of the discs.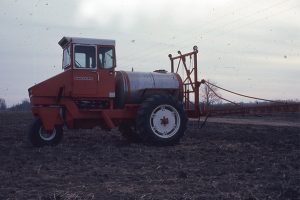 The original Hahn Hi-Boy was definitely underpowered. Eventually, they upgraded with more horsepower and rear wheel drive. The Hi-Boy's successor, the Super Go-Boy, had a 400-gallon tank!
For several years, Jim Stutsman and I took on the Hahn dealership with considerable success. Although we enjoyed being a Hahn dealer, it became too much with the rapidly growing fertilizer business. Hahn sales and service responsibilities naturally overlapped the busy fertilizer season.
Back then, Hahn was the industry leader and really pioneered the application of ag chemicals. It's been quite amazing to experience the evolution of equipment from the Hi-Boys back then to the Terragators and Rogators of today.