Most agricultural equipment doesn't apply to the one size fits all mentality. Bazooka Farmstar's hose reel line is no different. Our top picks from the Bazooka line are the Eclipse (2416), 2012, and 1810.
At the heart of all three of these hose reels is the Quantum Drive System; the only 3-speed hydraulic control on the market. This system offers the fastest controlled freewheel, hydraulic wind and unwind. Oftentimes precision is lost when speed is gained; but not in this case. The 3-speed push button controller gives you power for maximum precision hose winding. As your reel fills with hose, you can trade off speed for torque. The days of matching your tractor speed to reel speed are over with the Quantum Drive's precise tension control. As you wind or unwind hose, you can adjust the tension as needed at whatever speed you prefer to drive.
Whether you want to build your own hose reel on Bazooka Farmstar's website or want to sit down and discuss your options in person, we are here to serve you for success.
The Eclipse (2416)
The Eclipse is an absolute behemoth as one of the largest hose reels on the market.
» It's four 600 flotation tires minimize compaction by evenly distributing its mass with increased stability.
» Holds 16 sections (or 2 miles) of 8" hose or 9 sections
(1⅛ miles) of 10" hose.
» Walking tandem axles makes this a great option for
uneven terrain.
» Optional dual, rear-mounted cameras shoot live footage
shown on a 7" in-cab monitor for increased visibility.
» It's also highway approved.
2012
The smaller but still mighty little brother. It has all the perks of the Eclipse, just a fraction of the size.
» It can hold 12 sections (1½ miles) of 8" hose or 7 sections (⅞ of a mile) of 10" hose.
» Walking tandem axles to better handle uneven terrain.
» Great option if you like the Eclipse but want a smaller and lighter version.
1810
Although this reel originated from the 90s, it's nothing to scoff at. The 1810 has been revamped from its original design to pivot at high speeds.
» Can comfortably hold 10 sections (1¼ of a mile) of 8" hose or 6 sections (¾ of a mile) of 10" hose.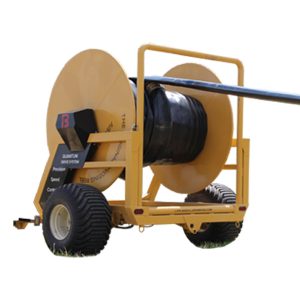 » The 1810's single axle allows this reel to turn easily in the field and it works well with a pivoting hitch, unlike other reels.
» Performs a tight picture-perfect wrap every time.
» Standard flotation tires to help prevent compaction.
» The basket integrated base is great for parts storage.