By: Derek Bontrager, Equipment Sales and Mark Peterson, Schulte Industries
Keeping all the grass waterways, field borders and roadside ditches mowed while preventing weeds and other undesirable plants from taking over is an important routine for many during the summer months. For many of our customers, this involves the use of a Schulte rotary cutter. Whether you have an 8' mower, a 42' mower or anything in between, our friends from Schulte have developed an extensive maintenance checklist to help get your mower(s) ready for mid-summer cutting.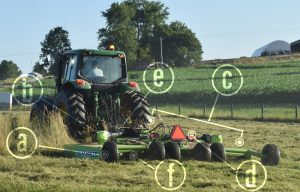 a)
Inspect all tires—check lug nut torque, tire pressure and excessive damage to rims.
Check tire spindles for play or resistance while turning. Growly noises indicate worn out bearings.
b)
Replace oil in gearboxes. You may need to remove stump-jumper pans to do this.
Check all shafts on gearboxes for endplay (there should be no endplay).
c)
Check all other u-joints for excessive wear.
Grease all the zerks on the machine. If there are zerks not taking grease, this is a great time for a replacement.
Check cylinders, hydraulic hoses, and gearboxes for oil leaks. Check to make sure hoses cannot be caught by moving or spinning shafts.
Check all pivot points (pins, bushings) for wear or damage.
Check mower level side to side.
Check mower level front to rear. This needs to be done while the mower is hitched to the tractor that will be used for mowing. The mower should be elevated in the front 1½" – 2" higher than in the back. This setting will help with cut quality and reduce blade engagement with possible obstructions.
Check mower for loose or missing hardware.
Check for structural issues or damage (look for cracking at welds or on sheet metal).
Run mower and check operation.
d)
Check operation of lights (if applicable).
e)
Disassemble PTO shaft slip clutches to inspect and clean. Re-tighten to proper specifications.
Remove and replace all power shafts making certain to pull apart and clean male and female tubes making certain they telescope freely.
Check PTO constant velocity (CV) shaft bodies for excessive wear.
f)
Check skid shoes for wear (most Schulte mowers use replaceable skid shoes).
Check stump jumper pans for cracking, tightness to gearbox shaft or other damage.
Check blade bolts and blades for excessive wear.