By: Tim Stuenkel | Teejet Technologies
Farmers have to play many roles and make many timely decisions in order to operate a successful business. When it comes to pesticide and fertilizer application, making the most efficient and effective application is very important. Given the cost of today's crop protection products, proper spray tip selection is critical and can return large dividends.
If you have ever caused or received crop damage due to spray drift, had weed control issues due to a poor chemical application, or if you have ever had striped fields due to plugged or damaged tips you can appreciate the cost and frustration of a poor spray application.
Today's nozzle manufacturers offer a wide variety of spray tips. Growers can choose between various spray angles, (typically 80° or 110°), spray patterns (single flat spray, twin flat spray, cone spray), tip capacity (such as 02, 03, 04), spray tip type (extended range, air induction, flooding style), and orifice material (polymer, stainless steel, ceramic). All of these options can lead to confusion and make tip selection more difficult than necessary, and we haven't even talked about droplet size yet!
So, let's break this down into several small discussions to help you make the best choices for each of your applications.
Spray tip orifices are typically offered in three common materials: stainless steel, ceramic or polymer (often stated under a variety of names such as acetal, syntal, delrin, POM, celcon, thermoplastic, etc.)
Polymer
Polymer is becoming the most commonly used material for spray tip construction. This material can be injection molded and allows the complex geometries of today's spray tips to be easily manufactured. There is a somewhat common misconception that plastic (polymer) tips may be of inferior quality, but the reality is that this material typically offers equal or better wear life as compared to stainless steel orifices while offering excellent chemical resistance and affordable pricing.
Stainless Steel
Stainless steel orifice materials are still very popular, offer very good wear life, are not easily damaged during cleaning and will continue to be offered for many years to come.
Ceramic
Ceramic materials offer the longest wear life of all and can be an excellent choice. However, costs may be higher and your tip selection options may be more limited.
In order to choose the proper tip for broadcast applications, you must ask a series of questions. You first need to know three important values – tip spacing on the boom (expressed in inches), target application rate (expressed as GPA) and typical application ground speed (mph). If you multiply these three values together and divide by a constant (5,940) you can determine the flow rate (capacity) of a single spray tip.
Example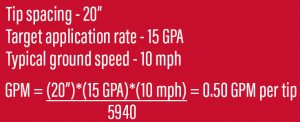 In this case, you would choose a brown, 05 capacity tip which produces a flow rate of 0.5 GPM at approximately 40 psi. Or if you prefer to spray at higher pressure, you might choose a 04 capacity tip and spray at approximately 60 psi.
Now that we know our tip flow rate, we need to determine the pattern style and droplet size that is best suited to the application. Most broadcast pesticide applications will use either a single or twin pattern flat spray.
If you are applying a product that requires very thorough leaf coverage, such as a fungicide, you might choose a twin spray tip as the dual patterns and multiple angles of attack offer a greater
chance for intercepting the leaf surface. If you are applying a systemic herbicide (such as glyphosate or dicamba) that does not require as thorough coverage you might choose a more traditional
single flat spray tip. The other component of this discussion is selecting for the proper droplet size.
Most nozzle manufacturers today publish droplet size category ratings in their catalogs and on their website. You will see multicolored charts with identifiers such as M, C, VC, etc. which designate "medium", "coarse" and "very coarse" droplet sizes. There are currently eight size ratings ranging from "extremely fine" to "ultra coarse". Chemical manufacturers are now including droplet size recommendations on many of their product labels which allow growers to easily choose the best tip for that particular chemical. The tradeoff of droplet size is quite simple.
Small Droplets
Smaller droplets typically allow for improved leaf coverage but are more susceptible to drift and possible damage to non-target species.
Large Droplets
Larger droplets, while not producing as much coverage on the leaf surface, can drastically reduce drift.
When choosing a spray nozzle it is VERY important to consider the consequences of selecting improper droplet size – both from the standpoint of drift potential and surface coverage. When choosing a spray tip and droplet size you must take several factors into consideration including: the chemical mode of action/label recommendation, weather conditions at the time of application, crops adjacent to or nearby the field being treated, size and density of the crop canopy being sprayed, intensity of the pest pressure and
nozzle manufacturer's droplet size rating.
Spray tip manufacturers provide growers with a variety of tools to assist in the spray tip selection process. Catalogs, websites, adhesive tank decals, and more are available from tip manufacturers to provide information on both application rates and droplet size info. You can also get help with tip selection from the Stutsman team or in the Stutsman parts catalog.
Best wishes for a successful spraying season!