As a follow-up to "Market Sharks", an article that was all about the fertilizer world markets, I thought you might be interested in my take on what has driven up costs of crop protection products for the summer 2022 application season.
Let's first visit the supply side of the equation.
Many of the issues that are driving up fertilizer costs are certainly affecting crop protection products as well.
The brutal winter cold snap in the Deep South caused some major damage to chemical plants in the Gulf Coast of the United States.
Freight rate increases have affected all products, but imported goods have been hit especially hard by ocean-going container freight rate increases.
Packaging shortages. Everything is short: from the lids on 2.5-gallon jugs to cages on mini-bulk tanks and the cardboard boxes that jugs are shipped in. All have created delays in shipments.
COVID. As many of our crop protection products have come off patent protection, it has been a race to the bottom with generic pricing. For many of the manufacturers, they have resorted to sourcing their active ingredients from low-cost providers: China, India and the Eastern Bloc countries. Unfortunately, these countries proved to be the least able to effectively deal with the virus, in many instances halting production for months on end.
Shifts in individual product demand. BASF, the maker of branded glufosinate, expects a 30% year-over-year increase in demand for its Liberty® herbicide, based on the growing adoption of Enlist E3™ and XtendFlex® soybean varieties, which both tolerate over-the-top applications of glufosinate.
So, when can we expect supply to catch up with demand?
My best guess is not anytime in the next year. When I look at all the possible black swans out there to cause problems, I'm not terribly optimistic.
The omicron variant of COVID hit China hard in mid-March. As a result, the Chinese government has locked down cities and forbidden many of its citizens from leaving their homes to try to get the virus under control.
25 million people in Shanghai have already been sequestered for over a month with the stay-at-home orders possibly lasting well into June. With these orders in place, many of the factories and warehouses have been shuttered.
9-out-of-10 Chinese trucks have no drivers during this shutdown.

Evidence of this Chinese slowdown is indicated by the chart to the right showing the huge numbers of ships waiting to get loaded in the Port of Shanghai. In fact, 30% of the world's container ships are waiting to get into or out of Chinese ports.
The resulting slowdowns in Chinese manufacturing provide some relief for the bottlenecked ports on both of our coasts and Europe as well. But that is nothing more than fool's gold as I believe that China will ramp up their factories soon and our ports will again be flooded with containers by the end of July.
West Coast port workers are bargaining for a new union contract that could lead to a possible strike.
Petroleum prices. Some of our products have oil-based carriers, not to mention the $5.00 per gallon diesel fuel to get them delivered to the farm.
Where does all of this leave us?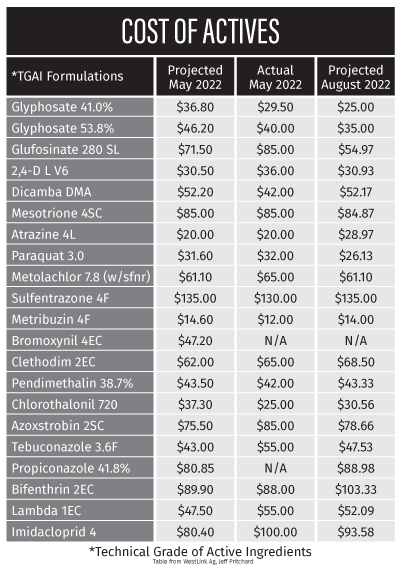 The chart to the right outlines some of the most used active ingredients in the Midwest. It illustrates what we think the formulators were paying for actives in May as well as what we think they will be paying this fall. There is no doubt that product inventories are tight today, maybe as tight as I have ever seen them.
As the Russian invasion of Ukraine demonstrated in the fertilizer markets, any unforeseen event can have dramatic and long-lasting effects. In these trying times, early and constant communication with your suppliers is key.
As always, I look forward to hearing your thoughts on this. Stay safe!
Mark Stutsman