By: Mark Stutsman, COO
As we prepare for the upcoming growing season, many of us are left to ponder, 'what has made fertilizer so precious?'
Fertilizer pricing today is a complicated matter with many players sitting at the table: world markets (the big bully), energy costs and clean air initiatives (the cousins), supply and demand (the married couple), trade restrictions and tariffs (our friends from the East Coast) and freight rates (the mover and shaker).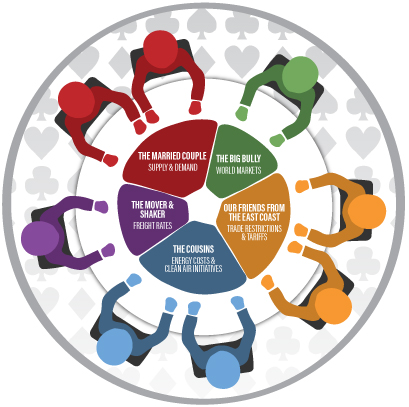 These are the main players in this high-stakes game with inflation and COVID waiting for their seats at the table. In this article, I will do my best to discuss these players and the influence they have on this important market.
The Big Bully
I think the first thing that we must all understand is that today's fertilizer market is truly a world market. The United States consumes just a little under 10% of the world's annual fertilizer usage. You might say, "how is this possible? We live and work in the Corn Belt and we feed the world!" Corn is indeed the largest consumer of fertilizer with 16% of the world market share. But the fact is, most of the world's fertilizer demand is generated by crops that are not grown in the Corn Belt.
The other side of the equation is that the U.S. relies very heavily on fertilizer imports. The U.S. produces less than 11% of the world's nitrogen, 9% of the world's phosphate, and 0.8% of the world's supply of potash. Therefore, to get these imported products to our shores, we must be willing to outbid the rest of the world.
The Cousins
The next players up for discussion are somewhat new to the table: energy costs and clean air initiatives. Let's start with natural gas. Domestically, natural gas or energy comprises about 80% of the variable cost to produce a ton of anhydrous ammonia. There are many factors that have driven up the cost of natural gas.
The extreme cold snaps of last February both here in the U.S. and in Europe consumed most of the built-up reserves in world inventories to heat homes and businesses. A few months later, Hurricane Irma hit the Gulf Coast oil exploration area extremely hard, limiting gas production for several months in that area of the U.S.
Western Europe's gas supply comes primarily from a Russian pipeline. Due partially to the region's political instability, natural gas prices have risen to over $60/MMBTU (metric million British thermal unit) compared to $4/MMBTU in the U.S. These gas prices have effectively shut down the European production of nitrogen fertilizers.
Adding fuel to the fire, recent new clean air initiatives have further increased demand for and raised prices of natural gas. Today, roughly 40% of the U.S. electricity generation is from burning natural gas as we move away from coal-fired plants. Rapid growth in the world's fleet of compressed, natural gas-burning trucks and buses is adding to demand.
As the host of the 2022 Winter Olympics, China wanted to put on a good face for the rest of the world. They shut down many of their country's industrial complexes to have clean air for Olympic visitors. China is the world's leader in urea manufacturing but uses very dirty coal instead of natural gas to feed their plants. Many of those nitrogen plants have been shuttered for the last several months. China's urea inventories are now low enough that they have announced the suspension of nitrogen exports until at least the middle of 2022. This announcement has really put the supply and demand relationship of nitrogen on shaky ground.
The Married Couple
Speaking of supply and demand … if we were to go back 30 months, we would have found that corn and soybean prices were relatively low and that demand for fertilizer was softening. Fertilizer manufacturers started to slow down production to bring their supplies more in line with demand. Inventories were then drawn down just as the grain markets took off to new highs. As crop prices strengthened, fertilizer demand increased, and the manufacturers have not been able to build any inventories while keeping up with this higher demand.
Just as China announced that they were suspending exports of nitrogen, India announced they are adding $3.8 billion to this year's urea tender. Generally speaking, Indian farmers are of subsistence means and cannot afford to purchase fertilizer. Therefore, the Indian government steps in to purchase fertilizer for farmers in an attempt to become a self-sufficient food-producing country.
Our Friends From the East Coast
Now in the category of nothing should ever be easy, trade restrictions and tariffs join the table.
In 2018, The Mosaic Company filed and won a phosphate anti-dumping lawsuit claiming that certain companies were bringing phosphate to the U.S. and selling at artificially low prices. As a result of the tariffs that were imposed to protect our domestic producers, phosphate imports from Morocco and Russia have declined by 11% and 16%, respectively.
In 2019, CF Industries filed and won a UAN anti-dumping lawsuit against Russia claiming they were dumping UAN in the U.S. at artificially low prices. As a result of these new tariffs, almost all Russian UAN exports to the U.S. have stopped.
In 2021, China (the world's largest manufacturer of phosphates) halted all phosphate exports and did the same with urea shortly after. In times of high prices or low supplies, we need to remember that China will always take care of their own farmers first.
For the remainder of 2022, we need to keep our attention on the Russian invasion of Ukraine for several reasons. As we watch the world's number one and number three wheat exporters go to war, grain prices have risen sharply. If the Ukrainian farmers are unable to plant a crop this spring, grain prices could very well explode to unimaginable heights. Unfortunately, the world's largest NH3 exporting terminal is in Ukraine and fed by Russian natural gas. I think it is safe to say NH3 shipments from this terminal will be dramatically reduced if not totally eliminated for some time to come. To add even more confusion to the market, two weeks ago Belarus which produces 15% of the world's potash, declared force majeure suspending all potash exports for this spring season as they have no safe route to an ocean-going port. With the recent climb in grain prices and the suspension of fertilizer shipments from this part of the world, the hope for a spring price break in fertilizer prices seems all but lost.
The Mover & Shaker
And lastly, don't forget about our friend, freight. We have all read about our nation's shortage of truck drivers, with approximately 80,000 driving jobs remaining unfilled. But a lesser-known fact is the incredible increase in ocean-going freight rates. For example, the container freight charge from Shanghai, China to Cedar Rapids, Iowa has increased by over 500% in just under two years.
So … what happens next? I, like many of you, wish I had a crystal ball to gaze into. None of the players that I have outlined above have quick fixes. And some of them, such as clean air initiatives and pressure on natural gas supplies, most likely will be with us permanently.
At the end of the day, just like the grain market, fertilizer prices are this high because someone is willing to purchase fertilizer at these price levels. And today many countries are willing to purchase these higher priced products to cost effectively feed their people.
Do we need more competition in the fertilizer manufacturing sector? Absolutely. I would argue strongly that it is not in our best interest to have one company control the majority of potash in North America and another company controlling most of the nitrogen. Maybe these higher prices will invite new competitors to the market.
Make no mistake, there is certainly going to be some fertilizer demand destruction at these higher prices. But with corn at $6.50, beans at $15.00 and maybe both headed even higher, how much actual demand destruction remains to be seen? It's a safe bet that manufacturers are pumping out products as fast as they can to participate in these higher prices.
Over time supply and demand will find their equilibrium. It always does.
I look forward to hearing your opinions about this ….
Mark Stutsman