By: John Yoder, VP of Manure Equipment
When a manure spreader is starting to show some wear and tear, I often get asked about trading in for a slightly newer model. While trading in for a newer spreader is always an option, there are some other ways to improve your equipment that can save you some money. One option is to replace just the tank portion of your manure spreader.
The quality of the tank itself is one of the more important components of the whole piece of equipment. A lot of the times a tank will last 12-15 years, while some that are kept inside a storage shed can last as long as 25-30 years. A good candidate for a replacement tank is one that may be getting soft on the top or showing extreme rust and fatigue but has had recent work or maintenance done (like brand new tires).
We always aim to give you the best bang for your buck, so while analyzing your situation for a trade or replacement tank we consider the following: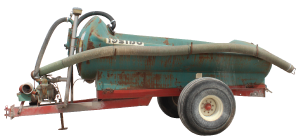 » What condition are the tires in?
» What does the undercarriage structure look like?
» What is the hitch and tow bar condition?
» Does the steering and brakes work?
If replacing the tank is under consideration, labor comes into the picture as well. How much labor are you willing to furnish, and do you have time to do the switch? A good rule of thumb is 50 hours for a 6000 base and up to 80 hours for a steerable tank. An additional expense is the crane that is needed to remove the old tank and place the new.
A new tank will include the impeller housing, a new discharge pipe over the top, a signal light kit, decals and paint. In a nutshell, it includes everything that is welded and painted on the tank, plus a few more items.
If you have a vacuum tank, it's common for the top of the tank to collapse. When this happens, repairing the old tank is not an option; it must be replaced. In this case, we rebuild all the components and replace it with a ⁵/16" thick tank instead of the standard ¹/4". This increased thickness makes the tank stronger and ultimately extends the tank's life.
In most cases, your replacement tank will give you another 15 years without any problems from the undercarriage or similar components. At the end of the day, your cost to do all this is about half of what it would be to trade for a newer model spreader. If your tank is on its last leg but the rest of the machine is in good condition, give us a call to chat about replacement tank options.