On February 1, 2023, ProVantage growers and advisors participated in the annual meeting to go over the 2022 crop year. For the last 10 years of the ProVantage program's existence, the annual meeting serves as a connection point for the group to comb through growing season data from the tens of thousands of southeast Iowa acres currently enrolled in the program. This anonymous pool of field performance data allows us to extract themes and outcomes that lead to informed decision-making for the upcoming crop production year.
Weather, as an example, impacts crop production every year, but for 2022 the conversation centered around the timeliness of rain. Cooler temperatures and wet weather delayed early planting for many growers but once the crop was in the ground, close to average monthly rainfall led to plant establishment throughout May and June. The U.S. Drought Monitor (below) shows the progression of dry conditions experienced in southeast Iowa which led to some areas receiving 10" less rain than the past 20-year average for the same 6-month period.
Despite rainfall shortages, some growers across southeast Iowa experienced better-than-expected yields in 2022. What were the factors that influenced this? Was it luck? Maybe! Was there a particular product used or operation you did differently this year that may have been the difference maker despite a lack of moisture? Did you perform any trials that can be evaluated against the weather patterns of 2022? What seed population did your planter put in the ground and how does it compare to last year – do you know? Maybe the production success is unrelated to activities in the 2022 crop year, but the success traces back to growers' efforts at building soil health and fertility in prior years, which provided some stability for your crops in a drier year. What challenges will next year bring? Has the drought monitor improved at all since September 2022?
Hopefully, we've all thought about these questions since harvest and have some ideas of what led to the 2022 outcomes we saw in our fields. This reflection and desire to learn and improve productivity is not exclusive to the ProVantage program. We all strive to run a successful business, especially when there is a profitable opportunity in the grain markets. As the ProVantage advisor, I work to answer these questions for each of my growers with their own field data and to keep asking subsequent questions as we learn how we can push production goals and profitability to new heights each year.
I challenge you to take inventory of your 2022 crop year outcomes and make a list of the things you'd consider your difference makers in 2022. Pull it out in a year, see how you did, and add to it after 2023. Be honest with yourself about improvements you should make for 2023. If having a partner to support your efforts and help you navigate this journey would be beneficial, consider enrolling in the ProVantage program. Our aim is to not only produce quality data analysis but to turn that individualized data into actionable insight so growers can reach their crop production goals. We have many tools available to measure your precision agriculture practices, help you track production efficiency and ultimately, maximize profitability in your fields.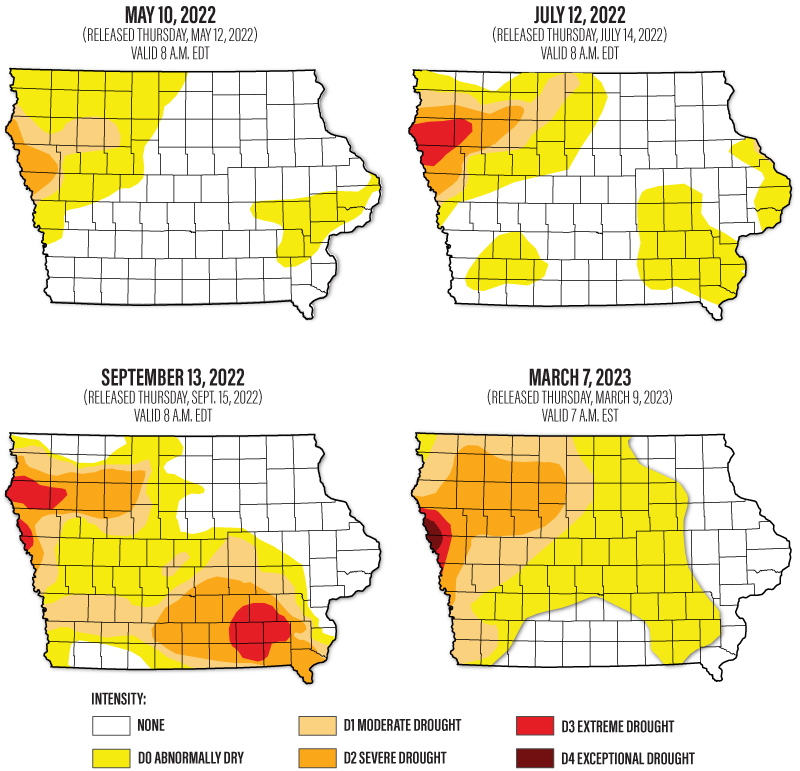 Sources
The U.S. Drought Monitor is jointly produced by the National Drought Mitigation Center at the University of Nebraska-Lincoln, the United States Department of Agriculture, and the National Oceanic and Atmospheric Administration. Maps courtesy of NDMC and can be accessed at droughtmonitor.unl.edu.