ResponsibleAg
By: Mark Stutsman, COO
Eldon C. Stutsman, Inc. and our affiliated retail agronomy locations have made the decision to join ResponsibleAg.
ResponsibleAg is an industry-led initiative committed to helping agribusinesses comply with federal regulations when it comes to handling fertilizer, crop protection products, and other farm inputs. The comprehensive program not only takes a systemic approach to continuous improvement, but also helps members identify potential compliance issues through a facility audit. Membership in ResponsibleAg takes the audit one step further by providing tools and resources to correct the issues, helping to keep our employees, customers and communities safe.
While we are extremely proud of our safety track record over our close to 90 years in business, we felt it was important to join this organization for a host of reasons:
First and foremost, we should and will always strive to be better in our safety culture.
From OSHA to DOT and EPA to DHS, there are hundreds of regulations we must comply with. It is becoming increasingly difficult for our staff to have knowledge of and to be in 100% compliance with all these rules regarding the safe handling and storage of fertilizer and agricultural input supplies.
To belong to an organization where we can freely share best-in-class ideas regarding safety is invaluable. There is no point in reinventing the wheel when you can have a peer group to bounce ideas off.
A highly trained ResponsibleAg inspector will visit each of our locations annually to conduct a very detailed audit. Initially, the audit will alert us to any shortcomings or deficiencies that they may find, as well as provide solutions to quickly remedy them. Once we are found to be in full compliance, we will then be awarded the ResponsibleAg certificate of approval.
The audit is determined by the scope of our operations. We have requested to be reviewed in the following areas:
Environmental, Health, Safety & Sustainability (HS&S) Documentation
Commercial Motor Vehicles
Maintenance Records
Application/Nurse Equipment
Office & Grounds Housekeeping
Waste Management
Dry Fertilizer Warehouse
Fuel Storage
Bulk Liquid Fertilizer
Seed Treater/Warehouse
Anhydrous Ammonia Facility
Chemical Warehouse
Anhydrous Ammonia Mobile Equipment
Bulk Pesticide
Maintenance Shops
Feed Warehouse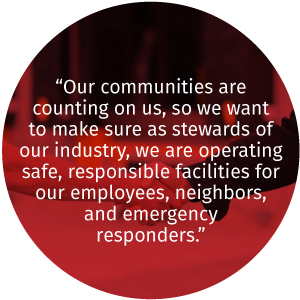 Suppliers, customers and communities alike have the right to know who in our industry is taking the extra steps in being responsible; once enrolled in the program, the status (participant or certified) becomes public knowledge.
All of us at Stutsmans have much to gain from this ResponsibleAg journey and look forward to the continuous improvement this program will bring.