By: Trent Lartz, DVM | Article courtesy of Milk Specialties Global
Winter is here. Are your cattle producers prepared?
The pre-weaning period can be challenging under any circumstances, but extreme weather fluctuations put extra stress on a calf's immune system. Additional care must be taken to keep calves healthy and growing during the winter.
There are three basic rules to keep in mind:
Keep calves warm and dry.
Make sure calves have enough energy.
Do not forget about hydration (water & electrolytes).
Keep Calves Warm and Dry
All animals have a "comfort zone", a range in temperature where their metabolism remains fairly constant. They are not using energy to cool off or warm-up. This is known as the Thermal Neutral Zone. The lower critical temperature for calves less than three weeks of age is 56°F and 33°F for calves older than three weeks to weaning.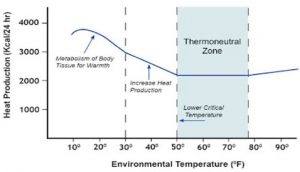 Costello, R. (2013, January 15) Calf Feeding: Environmental Temperature & Energy Intake
Calves have a large surface area to body mass ratio, which causes them to lose heat more rapidly than larger animals. Additionally, calves have low body fat reserves. If they are forced to burn what little fat they have to maintain their body temperatures, growth and immune function can be compromised.
Keeping calves warm and dry means minimizing heat loss. Calf jackets/blankets are a great way to keep calves dry and warm. They need to be placed on dry calves and be moisture repellent. These work best for calves less than three weeks of age.
Bedding is another way to keep calves dry and warm. The best choice for bedding in the winter is straw. The bedding should be dry, and the calf should be allowed to "nest" in the bedding to the point that the calf's legs are not visible.
Additional bedding should be added to ensure the calf is not lying in a wet environment. The bedding may need to be removed and replaced before the calf is weaned to ensure that the moisture content of the bedding does not get too high.
Ventilation is another key component to keeping calves warm. Drafts need to be eliminated or at least minimized. However, if calves are housed in a building, it should not be completely sealed. There should be a minimum of four air exchanges per hour. To ensure this, smoke or fog a room or building to determine how long it takes for the smoke or fog to clear. Ideally, the smoke or fog should clear in 10-15 minutes.
Make Sure Calves Have Enough Energy
Calves need 1 – 1.3% more energy for each degree the environmental temperature drops below 50°F. For example, when the temperature falls to 30°F, calves need about 25% more energy than at 50°F, and about 50% more energy at 10°F. There are three options to increase energy intake for a calf:
Increase the volume of milk replacer fed (per feeding, 3 times per day, or ad-lib).
Increase the concentration of milk replacer powder fed, but have no more than 15% solids.
Use a higher fat milk replacer or high energy fat supplement, such as Milk Energizer™, product number 1801.
Option 3 is the easiest and safest choice to increase energy intake for calves. Here are the advantages of feeding Milk Energizer™:
The volume of milk replacer being fed does not need to be changed.
Fat increases calories without increasing osmolarity. Therefore, it will not cause osmotic or nutritional scours.
Fat does not need extra water for digestion.
Fat is 2.5 times more energy-dense than sugars and proteins.
Clostridium sporogenes do not digest fats, therefore there is less risk of abomasitis or bloat.

As the above chart demonstrates, more milk replacer powder would need to be fed to increase the energy to the amount that is provided by the Milk Energizer™
The chart below shows the amount of Milk Energizer™ to be fed in ounces, based on inputs.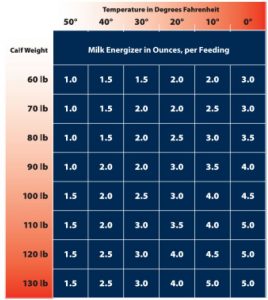 Do Not Forget About Hydration
Water is the most essential nutrient and is directly related to dry matter intake. Calves have an increased need for water at times of stress, such as scours, fever, high or low temperatures, or any other disease. Clean, fresh, temperate water MUST be available to the calf free of choice. In the winter, water may need to be offered multiple times throughout the day.
Free water (not milk replacer) is necessary for rumen fermentation. Milk replacer bypasses the rumen and reticulum into the abomasum through the esophageal groove. Water should be offered 30 minutes after milk feeding to ensure that the esophageal groove as opened. This time may need to be shortened in the winter to encourage the calf to drink water before it lays down after the milk meal. Good managers find ways to offer water to calves in the winter. Calves need fresh, clean water from as early as 1 day of age.
The goal is to raise healthy calves that grow as well in the winter as the other three seasons. By following these three basic rules, calves will perform as well as they do for the rest of the year.