By: Amber Milder, Precision Ag Specialist
Where has time gone? I am still in disbelief that the 2017 harvest is complete and we are wrapping up the last few days of the calendar year. As we put away machinery and hang our hats for the winter, there is a handful of things we need to be reviewing and begin thinking about for the 2018 crop year. The first being, where did these 2017 yields come from?
Throughout our territory, there was a general shock as the combines rolled through the fields getting impressive readings from their yield monitors. How could this be with such a dry growing season and some other harsh weather episodes that mother nature threw our way? Many of us were too focused on how dry we were during the growing season, so we forgot to pay attention to the temperatures. Overall, we had a very mild summer from a temperature standpoint. Especially in August, which is a critical time for soybeans. Even when the corn was reaching a V8 growth stage, we were mild and for the most part moist, during the time frame that the ear size is determined. We also need to give some credit to our seed breeders who are working extremely hard to give us seed that is durable and adaptable.
Lastly, the 2017 crop year was one of few diseases. I am anxious to start analyzing yield data to see the comparisons from fields who had a fungicide applied and those who did not. Our number one takeaway from 2017 should be, do not fret yield until it has been harvested.
Looking forward to the 2018 crop year, what are some things we should be doing to ensure we continue to see increasing yields? I know you hear this every year but it is just that important. Fertilize. Do you perform your best on an empty stomach? I would guess not. Your crop is no different. Putting back on your fields what your crop took off is setting yourself up for success for years to come. With all the technology that we have at our fingertips, variable rate fertilizer is painless. Plus, look how accurate it is. On the left, you have the 2017 yield map. On the right, you have the removal only fertilizer recommendation for potassium. See how closely they resemble each other?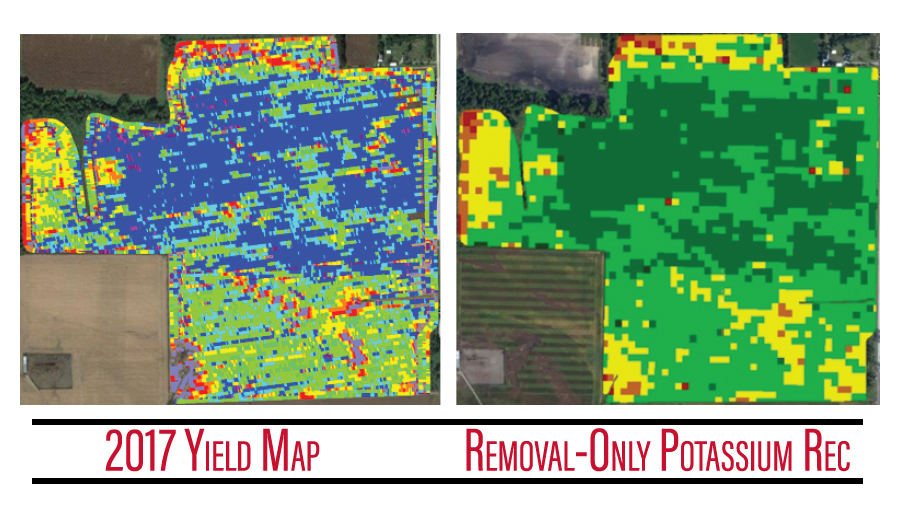 Seed selection and placement is another easy way to help ensure you are getting the most out of your final yields. Understanding what seed you are buying and where it should be placed is just another tool you can add to your toolbox. Understanding your seed will also help you further into the growing season when you are challenged with other important decisions that need to be made.
Although there are a lot of other contributing factors to a continuous increase in yields, I only have one more to mention currently. How did your weed pressure look when you were going through your fields with your combine? Controlling weeds is the talk of the industry right now because they are getting too pesky to maintain. I highly suggest talking with your agronomy salesman on ways you can maintain control of your weed pressure or help to minimize them. Cleaner fields will be easier on your crops, your machinery and give you peace of mind when it comes down to it.
In summary, congratulations on another successful year of farming in Eastern Iowa. Helping you reach your operational goals will continue to be our number one priority. We wish you all a happy and healthy holiday season. See you in 2018!