Constantly looking for ways to be a little bit better than the day before, Eldon was always on the lookout for innovative products to better serve customers. As gas-powered combines and shelled corn started to become more popular in the post-war 50s, on-farm grain bins started coming on to the scene. Recognizing the opportunity to pioneer the selling of grain storage and drying equipment in Southeast Iowa, Eldon brought on the Black, Sivalls & Bryson (BS&B) line of bins. At this time, Butler was their biggest competitor.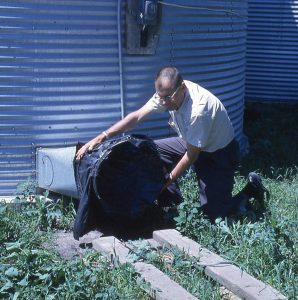 Spearheading this cutting edge new adventure was Ralph Troyer, our livestock equipment specialist. Ralph, a dairyman turned livestock equipment salesman, joined the Stutsman team in the early to mid-50s after he sold his dairy herd. Hitting the ground running with this new product line, Ralph installed the first in-bin drying system in the area. Within years of entering into the grain storage equipment sector, we brought on Bazooka Grain Handling System's augers (at that time from Salina, Kansas) as well as fans, heaters, stirrers and conveyors from a newly formed, family owned company that you may have heard of…Sukup.
As our newly developed fertilizer division really took root in the mid to late '60s, the grain storage & drying equipment business served as a great way to provide meaningful work during the off-season for the fertilizer team. Perhaps, even giving more reason to continue growing the grain handling equipment division. From pouring the cement to bin erection, the Stutsman team handled the entire construction process. During the days of BS&B, we sold 18′, 24′, 27′ and 30′ bins ranging from 3,500-10,000 bushels. Although we were always happy with the quality of the BS&B line, they were bought out by Reed Joseph Bins out of Mississippi in the early '70s. Sheer distance and the company's lack of enthusiasm on agricultural bins drove us to find a new bin manufacturer. York out of Kearny, Nebraska served as our replacement for the BS&B line; but our time with them was short lived. We quickly found they were challenging to erect and weren't the ideal fit for our customers or our team.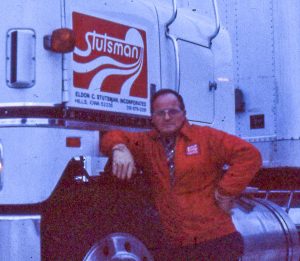 After phasing out York, we brought on the Chicago brand of bins, fans, and heaters. In fact, we were one of the first suppliers to introduce and sell the Chicago portable dryer; well before portable dryers became popular. However, being first isn't all that it cracked up to be. "Those Chicago portable dryers were the nastiest thing to change a motor in," said Roger Slaughter. "When the aluminum fan blades would corrode, they'd fuse to the steel shaft and you'd really have to pound on them just to take the fan blade off." Eldon "Shorty" Slaughter, our handy grain bin serviceman, had an innovative solution for this. During a particularly tough service call, Shorty and Roger couldn't get the fan off due to the corrosion. So they drove to town, and Shorty asked his friend with a hook for a hand to help them break it free; in the case of a mallet slip, it was the metal hook getting hit and not a hand. Shorty's friend was glad to oblige.
The move from York to Chicago bins wasn't the only transition happening in the '70s. While Ralph started backing down to part-time, Roger Slaughter started taking the lead on this division, which he continues to oversee today. After calling on us for years, Grain Systems, Inc of Assumption, Illinois (aka GSI), persistence, over-purchase of bin roofs, and the start of Chicago Eastern Bin's demise (lawsuit troubles led to their eventual bankruptcy) created the perfect storm. After getting stuck with more bin roofs than they needed, GSI offered Jim Stutsman a unique deal to get their foot in the door. If we bought multiple bin roofs up front, we could order side walls as we needed them; all at discount. This deal paved the way for our relationship going on 40 years to date.
As our experience grew with this sector of the industry, we learned the value in having a variety of brand options to protect against manufacturer's limited supply or long backorder wait times. With this experience, we added Shivvers drying products and augers to diversify our offering.
After selling Bazooka augers for decades, (at this point Bazooka Grain Handling Systems had merged with Farmstar Manure Systems to become Bazooka Farmstar) we hated to see the line go away when we caught wind of them closing their doors. Although we didn't know a thing about manufacturing, nor was it even located on our side of the state, we took on Bazooka Farmstar in 1990. After a few years, we moved the operation to the old Alco building in Washington, IA. (Although still there today, Bazooka Farmstar's focus is quite a bit different then it was in '93!)
Up until 2001, GSI was our primary bin manufacturer. After years of serving customers with in-and-on bin products, Sukup threw their hat in the bin arena as well.
"We have always had a natural synergy with Sukup; two family-owned companies with similar values," said Roger Slaughter. It's really no surprise we have maintained our relationship with them since the start of our dealings in this sector since the 1960s.
Although the grain handling equipment division looks a lot different today, mostly with the technology and sheer size of products offered, there are a few things that remain the same. GSI, Sukup, and Shivvers have stood the test of time and continue to be our leading brands, Roger Slaughter (along with Tom Miller) is still at the helm of this division ensuring our bin customers receive the cornerstone Stutsman service, and we continue to evaluate new technology/products/opportunities to ensure we are offering innovative solutions.