It is now July, which means corn is well above knee high and growers are getting their sights set on harvest. However, the threats of the growing season are not over yet. Disease in both corn and soybeans can be a huge yield robber.
Disease
For disease to develop, three items are needed; a pathogen, host, and environment. This is also known as the disease triangle. This growing season has been warm and humid, which favors the environment for disease development.
The most common diseases for corn in Iowa are common rust, gray leaf spot, and northern corn leaf blight. Common soybean diseases for our area includes rust and brown spot. When scouting diseases in corn, start at the bottom leaves and move upward, as disease begins on the lower leaves. If the disease is on the ear leaf or above, fungicide treatment should be strongly considered. To scout disease in soybeans, look at both the lower and upper leaves on the plant. If there is a substantial percentage of leaf damage, talk to your Stutsman agronomist to see if it is at a threshold for fungicide application.
Insect Control
Not only can mid-season fungicide application help with disease, but insecticide can be added as well. With the large number of Japanese beetles this season, we highly encourage this additional insurance.
Economic Considerations
There are many factors that must be considered with fungicide application. The most important is: Does it pay? Based on our Provantage data, for the past 5 years, fungicide has paid in corn on corn rotations. The past 4 out of 5 years it has paid in 1st-year corn as well.  Applying fungicide in beans has shown a 4-bushel increase on average over the past 3 years. To see your potential return on investment from fungicide, use the following formula:
(Increased bushels/acre * $/bushel) – Cost of Fungicide and Insecticide per acre =
Additional Profit per Acre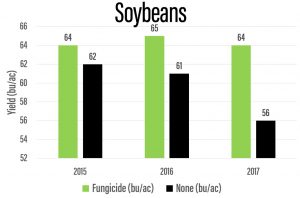 Timing
Timing is also important. Fungicide should be applied after 95% tassel but before brown silk. For soybeans, apply at R2-R3. While many types of fungicide are available, we suggest a fungicide that contains both a curative and preventative product. The preventative product has a 10-14-day residual, so properly timed application is vital.
Late-Season Standability
Fungicide can also help with late-season standability. This may be a bigger issue this year than in the past, as crop growth is ahead of schedule.  One concern growers have with this is higher moisture at harvest, resulting in more time and money tied up in drying. However, with the large amount of heat this season we predict higher grain moisture due to fungicide application will not be an issue. Late-season standability can also reduce herbicide expenses for the following season. Stronger standability means fewer ears are on the ground, resulting in less volunteer corn.
Now is the time to increase your yield potential by applying a mid-season fungicide and insecticide. To schedule your application, reach out to your Stutsman agronomist.