As we rounded out the 2019 growing season, we started learning about the threat of a new disease. Since our last update this winter, Iowa State Extension has published more information on where tar spot was found and how it impacts yield.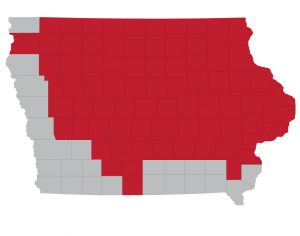 Last fall, it was estimated that tar spot was present in 60% of Iowa, however, we now know it was found in 75 of Iowa's 99 counties. This includes most of the territory the Stutsman agronomy team serves, with only portions of southern and western Iowa unaffected. Luckily, infestations occurred late in the season and had a low impact on overall yield.
Tar spot can be identified by its round, black spots that cannot be rubbed off. The pathogen thrives in cool, damp conditions (60-70°F) and is transported by wind. While crop rotation can help, tar spot can overwinter in residue for years. This includes cornstalk bales; be mindful when transporting bales off infected fields as that can spread the disease as well.
Corn is susceptible to tar spot at any growth stage and can have detrimental yield loss within weeks of infestation. Research has found that when tar spot reaches 50% leaf coverage, severe yield loss can occur. Because of this, we are especially concerned with early-season infestations in upcoming years.
While there are still many unknowns, 2-mode fungicides have shown to be effective against battling tar spot. Since corn can be impacted at any growth stage, research suggests using fungicide as a preventative measure and relying on the residual for protection; especially since tar spot can rapidly affect plant health. While most fungicide applications are typically made at VT/R1, the application timeline can be adapted based on the tar spot risk as well. Fields that are in a corn-on-corn rotation, have had tar spot in the past and are exposed to cool, damp weather conditions are considered at-risk.
We have several fungicide options available with various residual lengths. Depending on your disease risk, your Stutsman agronomist can provide product and application recommendations. On top of the benefits of disease prevention, the past 5 years of ProVantage data shows a 16.5 bushel/acre yield increase on corn acres applied with fungicide.
As we face the threat of this yield robbing disease, making fungicide a priority in 2020 will be key. Call your Stutsman agronomist to get your at-risk acres covered with the best residual package and sleep (a little) easier knowing you have proactive tar spot protection.