No doubt growers have been faced with many adversities in recent years, but for one Stutsman customer, he is viewing these challenging times as an opportunity to try something new. With a passion for finding a better way, Mark Dobson of reMARKable Farms, LLC., along with his share-cropping partner Ivan Ball, are using precision technology to do more with less.
This Southeast Iowa native is certainly no stranger to the agriculture industry. Mark was raised on a traditional row crop and livestock operation, and graduated from Iowa State in 2003 with degrees in agronomy and horticulture. Before embarking on his current agricultural journey, Mark worked in retail ag, and ran his own custom application business.
Mark's first exposure to strip cropping was in the 90's when he watched his uncle integrate it into his operation. However, his uncle realized that more technology was needed to make strip cropping successful. Throughout the years, Mark would learn more about the practice at Iowa State and would see it in action during drives throughout Northeast Iowa. However, it wasn't until Mark started to think about farming full time did he entertain or do much research on strip cropping.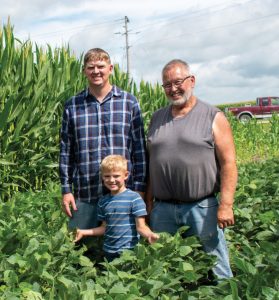 Between his passion for taking the path less traveled and the realization that he would have to find innovative ways to generate more money with less acres, his strip cropping vision started to come alive. As luck would have it, Ivan Ball, a local grower supportive of out-of-the-box ideas and in need of a young partner, connected with Mark.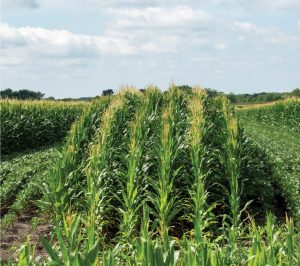 While most progressive growers think of VRT in zones/regions, Mark uses VRT down to the row level. His fields are built on six alternating 30-inch rows of corn and soybeans. Mark's strip cropping strategy is to maximize productivity with light utilization and high levels of management. His three-layer VRT prescription includes inner row population, outer row population, and fertilizer. With planting population specifically, the outside corn rows are planted at one and a half times the population of the inside rows to promote light utilization. Meanwhile, the soybean rows are planted in the opposite manner; the inside rows are planted at a 35% higher population since the outside rows are shadowed by the corn. Hybrid placement is also used to maximize light utilization. Mark placed taller hybrids in the middle rows and shorter hybrids on the outside, giving the rows a "dome effect".
These techniques were made possible with:
AgLeader:
» InCommand 1200 monitor
» GPS
» Autosteer
Precision Planting:
» 2020 monitor
» Electric drive
» DeltaForce: hydraulic downforce
» SpeedTube system
We admire Mark for his ingenuity and drive for trying out new ways to be profitable in today's ag climate. While management-intensive practices like strip cropping may not be for you, perhaps there are other ways to maximize your current operation with unique opportunities. Are there untapped niche markets near you?
Thinking outside the box and doing what's best for your specific farm in these upcoming years could really make a difference in being profitable or even bringing in the next generation. Remember, you don't have to radically change your entire operation; even small changes can go a long way in maximizing marginal soils. If you're curious on how precision ag can help execute your innovative ideas, give Brian Miller (319.679.7208) a call.