Article courtesy of Bazooka Farmstar & Glen Arnold,
Associate Professor & Field Specialist Manure Nutrient Management Application, Ohio State University
Sidedressing has proven to be a valuable way to deliver nitrogen when it's needed most, but have you thought about sidedressing with manure?
From the research previously conducted using tank applications, OSU realized the opportunity dragline application held. A glaring concern with sidedressing using a dragline system was the effect the weight of the hose would have on the emerging corn plants and the yield they would produce. The team at OSU began their testing on plots with corn between stages V1-V5, challenging their immediate concerns.
To coincide with studying the effects of drag hose on plant stand/yield, a field study was conducted with liquid swine manure. The dragline study was carried out in Darke County Ohio on corn post-emergent before V4.

Three years of data revealed no significant damage to corn stands until the V4 to V5 growth stage. The V4 stands were identical in 2014 and 2016, but due to a wet spring in 2015, the V4 stand was poor, which tremendously lowered the average.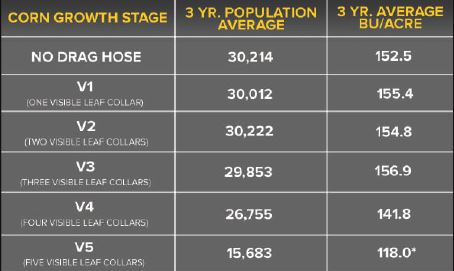 *Indicates only 2 years of data
Tank Application Research
Objective
To establish a more effective window for manure application, provide crops with proper nutrients at an essential time, and reduce purchased fertilizer costs.
Previous Research
OSU conducted small-plot research from 2012 to 2016 with liquid swine and dairy manure. More than 45 smaller, on-farm plots were used throughout this period, along with larger, field size plots. Manure was applied with a tank when the corn reached the V2-V3 growth stages. Pre-emergent and post-emergent comparisons were conducted for manure placed head to head with 28% Urea Ammonium Nitrate (UAN) as well. All comparisons were applied at an equal rate of 200 pounds of available nitrogen.
Results
Replacing 28% UAN (Urea Ammonium Nitrate) with liquid livestock manure resulted in a 10 to 12 percent increase in bushels per acre, over a 5 year period. Note that the incorporated manure outperformed the surface-applied manure.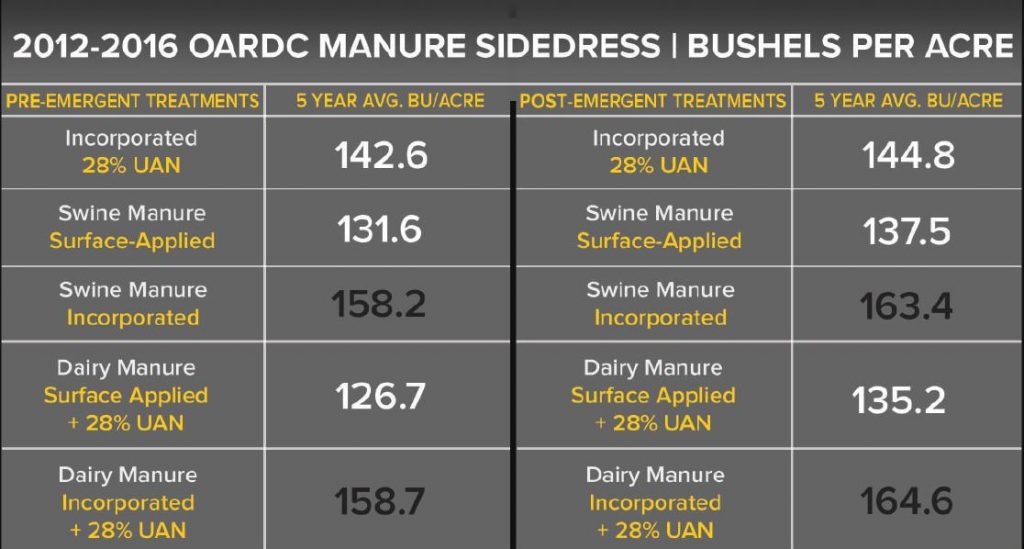 Chart 1. Ohio Agriculture Research and Development Center (OARDC) Manure Sidedress Plot Results