As we conclude this summer season, it's great to see the various plant growth across the area. Crops have taken advantage of the warm summer and are on track for a good harvest. Lawns and turfgrass have seen growth as well. However, some of it is unwanted. Yellow nutsedge and other weeds have been strong this summer, but we have the solution for you.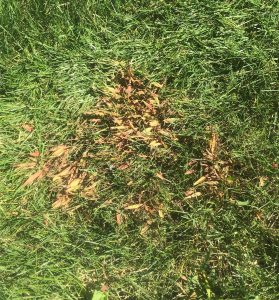 Quinclorac 75 DF Herbicide has shown great success in killing many grass and broadleaf weeds, and we've found it works well on yellow nutsedge also. Yellow nutsedge has been prominent in the area this season, as well as past years. It can be identified by its light green to yellow color and shiny appearance. The weed is considered a sedge, unlike the other common grass or broadleaf weeds. Quinclorac 75 DF Herbicide can end the cycle of weed pressure in your lawn or turfgrass.
In addition to yellow nutsedge, there are many other weeds Quali-Pro Quinclorac 75 DF Herbicide can control. Grass weeds include barnyardgrass, crabgrass, foxtail, kikuygrass, signalgrass, and torpedograss. Broadleaf weeds include bindweed, clover, daisy, dandelion, dollarweed, geranium, black medic, morning glory, speedwell, and wild violet.
Spot application, broadcast, and even ground application equipment can be used to apply Quali-Pro Quinclorac 75 DF Herbicide. For spot application, use the following mixing directions:
| | | |
| --- | --- | --- |
| Gallons of Spray Mix Water Volume | Tablespoons of Quali-Pro Quinclorac 75 DF Product | Tablespoons of MSO (methylated seed oil) Adjuvant |
| 1 | 1 | 2 |
| 2 | 2 | 4 |
| 3 | 3 | 6 |
Methylated seed oil adjuvant aids in product coverage and reduces evaporation. For most lawns, we suggest spot application. Broadcast or ground application is preferred for severe weed issues or for covering a large area, such as a golf course. Refer to the label for mixing directions on broadcast and ground application.
Several other precautions such as wind speed, grass species tolerance, and timing must be considered. These topics and more are covered in the product label. We can help you decide which application method is best for you. Quali-Pro Quinclorac 75 DF Herbicide is the solution for your weed issues.