From soil sampling and GIS to variable rate application and field mapping, precision agriculture and the technology used have evolved over the years with new monitors, systems and modules. You might be trying to stay on top of it, but when your tractor cab becomes inundated with multiple monitors and specific units for each different application, where do you draw the line?
Thankfully, with Raven's new Rate Control Module (RCM), the setup has been simplified. Replacing the Raven 660, the RCM is compatible with many ISOBUS virtual terminals meaning one less monitor in the cab. "The RCM utilizes the existing monitor," said Mark Rohret, ECS and flow control specialist. "It also eliminates extra cables in the cab."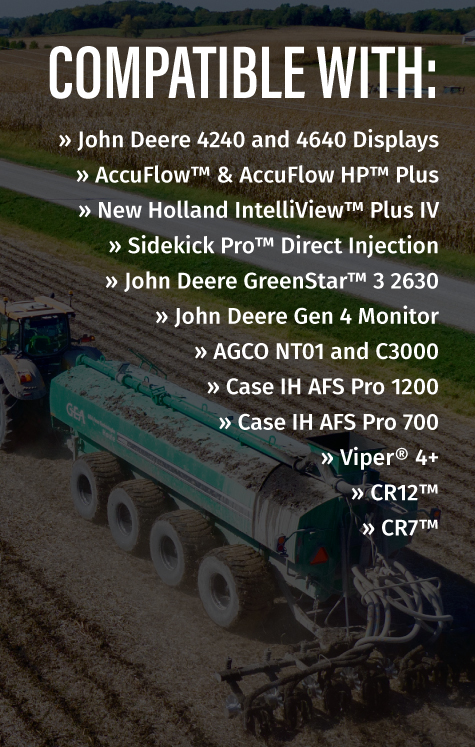 Without a need for extra wiring or programming, the Raven RCM can also map on current cab monitors. "The RCM will export the data and make an as-applied map," said Rohret. "It will map such things as gallons per acre with manure application but can also be used on sprayers and anhydrous bars."
The Raven RCM allows eight completely different machine set-ups. Because of its ISOBUS compatibility, you can easily move the module from one machine to the next with the magnetic mount. "The simplicity of the RCM means no additional learning," said Rohret. "The profile for each application can be pre-loaded so all you need to do is connect, select the profile and it's ready to go."
Because of its mobility and other key benefits, making the upgrade is not only beneficial to the operation but it is cost effective. "You're able to use the module across multiple pieces of equipment – manure spreaders, dry fertilizer spreaders, anhydrous toolbars and more," said Rohret.
We currently have units in stock (find them here) with more set to arrive next summer. The RCM can easily be installed on ISOBUS-ready equipment, so you don't need to schedule a shop appointment. However, if you still need guidance, our team is here to help!