With their fresh ideas and passion for the agriculture industry, we're excited to have this young talent on our team. Leah Evans joined our team in March and will wrap up her internship this month. She learned the ins and outs of the manure equipment department by helping with inventory photography and other various manure equipment marketing projects. We enjoyed watching her grow and wish her the best in the future! Our summer agronomy interns are Bryce Waters and Derick Sandburg. They can be found out in the fields providing crop scouting services. If you see them, be sure to stop and say hello!
What made Eldon C. Stutsman, Inc. stand out to you?
Leah: Eldon C. Stutsman, Inc stood out to me because of the work environment. Everyone is so helpful, welcoming and most of all hardworking.
Bryce: The company has been successful through the years and when I saw this internship opening, I thought it could be an opportunity to learn more for my future.
Derick: Eldon C. Stutsman, Inc. stood out to me because they are a very large business and focus on more than just one aspect of agriculture. It also really stood out to me how important a positive work environment is to them.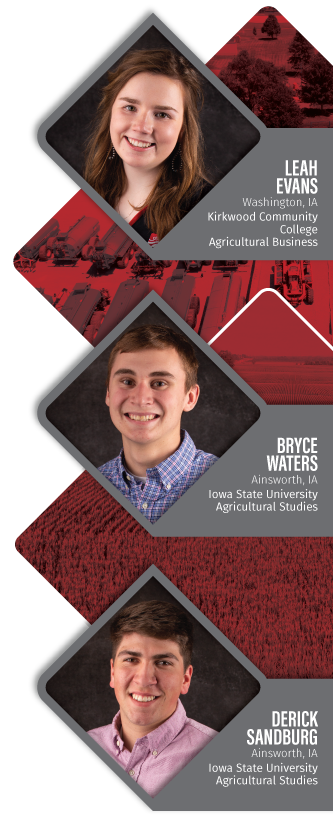 What inspired you to pursue a degree in agriculture?
Leah: I chose to pursue a degree in agriculture because it has had the biggest impact on me. I grew up raising beef cattle and have expanded our operation over the years. I've enjoyed every minute of it!
Bryce: I really enjoyed 4-H and FFA through middle and high school and have always loved learning new things about agriculture each day.
Derick: Growing up on a family farm exposed me to agriculture and it has always kept my interest. Along with living on the farm, I have been in both 4-H and FFA where I have shown cattle with my brother since I was eligible to join. These experiences and opportunities really drove me to continue my education in agriculture.
What is the best advice you have ever been given?
Leah: The best advice I have ever been given is "work hard for what you want, and you will be rewarded more at the end." I was told this once while showing cattle and it has stuck with me. If you work harder on things you want, the more likely you will get a greater outcome.
Bryce: To give 100% in everything you do.
Derick: Patience is key and good things do come to people who wait.
You're a new addition to a farm; what tool/machinery/technology/product would you be?
Leah: If I was a new addition to a farm, I would want to be a tractor because a lot of farms rely on tractors to complete a variety of different tasks.
Bryce: I would want to be something related to technology. It makes a farmer's job easier, and technology is growing in the farming world.
Derick: I would be a piece of precision ag equipment or GPS installed in a tractor. It would help farmers be more efficient and provide them with useful information to improve their profits.
What are your hobbies?
Leah: Raising and showing cattle, shooting trap, and taking photos.
Bryce: Hanging with friends, hunting, fishing, playing sports, and being active.
Derick: My hobbies include fishing, camping, and doing all kinds of sports, both indoors and outdoors.
What do you want to do when you graduate?
Leah: After I graduate, I would like to get a job for an agricultural company in their marketing department.
Bryce: My goal after graduation is to go back to Southeast Iowa and sell farm/crop insurance, just like my dad does.
Derick: When I graduate, I hope to get a full-time job close to home, that way I can still help on the family farm and hopefully start up a farm of my own.
What Stutsman core value means the most to you and why?
Leah: The Stutsman core value that means the most to me is value collaboration because everyone must communicate to be successful as a team.
Bryce: Set the bar higher. To me, this means to never settle for average and always reach your highest potential. Take the lead also resonates with me, as I aim to lead and avoid being a follower.
Derick: Radiate enthusiasm. I think a positive and enthusiastic work environment is extremely important for everyone to perform and work to the best of their ability.