When Eldon founded the company in 1934, his focus was on providing solutions to his friends and neighbors. Nearly 85 years later, we still pride ourselves on serving our customers with solutions for their diverse operations. With customer service always in mind, we have added the Krone hay line to serve the needs of our forage customers.
Like Stutsmans, Krone is a family owned business, founded in Germany in 1906. Krone is an industry leader in hay and forage design, innovation, and quality. Although Krone offers a full line of hay equipment, our focus is on their disc mowers, hay tedders, and rotary rakes. "I have sold German-engineered products in the past," said Derek Bontrager, equipment sales. "I believe that the phrase "German engineered" has very positive connotations," he continued.
To accommodate the new Krone line, parts will be kept on inventory as well. For more information about the Krone hay line coming to Stutsmans, stop in and chat with us. We are excited to bring yet another innovative equipment company to our lineup; welcome to the team Krone!
Disc Mowers
Initially, we will be focusing on Krone's AM R and EasyCut R 3-point disc mowers. These models range from 6' 6" to 11' 10" in size. Standard equipment features are designed for quick and easy maintenance to minimize downtime. The quick-change blades only need a single tool to swap worn blades. SafeCut disc hubs are built to shear a roll pin when hitting field obstacles. All the while, the strong, fully welded cutter bar is built for ultimate durability.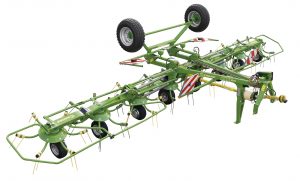 Hay Tedders
To facilitate decreased dry down time and improve forage quality, Krone offers the line of KW hay tedders in sizes ranging from a four basket 18' model to a GIANT 14 rotor 51' model. Krone tedders feature innovations such as maintenance-free Octolink finger clutches and liquid-grease-filled, permanently sealed rotor gearboxes. One unique standard feature is boundary spreading, allowing the operator to change the working angle to throw the crop away from fence and tree lines.
Rotary Rakes
The Swadro rake's durable tine arms, maintenance-free gearboxes and excellent overall construction produces superior quality of work. Made to windrow your hay ahead of the baler or chopper, Krone Swadro rotary rakes are sized from 12' 6" to 62' 4" with side or center delivery. Rotary rakes create well-shaped consistent windrows without contaminating the forage with dirt by gently lifting the crop.