After 31 years, Tom Sieren is hanging up his hat as our anhydrous ammonia facilities manager.
"Catching up with my grandkids is top priority," said Tom. "I have eight grandkids across three states: Colorado, Kansas and Iowa."
Although Tom's family has some other plans for retirement: his wife is challenging him to get 12,000 steps daily while his son is planning on bringing him all the trim boards from his house to sand down.
Growing up in Keota, Iowa on his family's farm, agriculture has always been a part of Tom's life. Before coming to Stutsman's he farmed full time, both row crop and livestock. So it should come as no surprise that Tom plans to stay involved in the agricultural industry after retirement.
Starting at Stutsman's in 1990, Tom worked in both the agronomy and grain bin departments before getting involved in the anhydrous ammonia side of the business.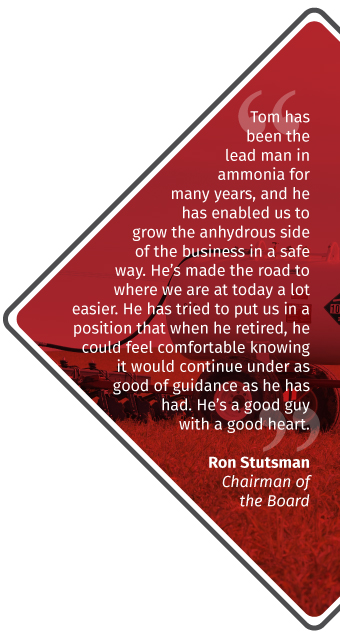 "Tom's career here at Stutsman's began working with fertilizer as well as helping on the grain bin crew doing what was needed to be done with the rest of the team," said Pat Mougin, operations manager. "Tom soon took the lead in anhydrous ammonia operations, filling tanks during the season and managing all toolbar and tank maintenance in the winter months."
Over the course of his career, Tom has seen major changes in Stutsman's fertilizer facilities. But he has also seen technology's impact on the industry. "It used to be we'd drag a 40 foot, 3-inch hose everywhere and you started your pump then you had to climb up on the truck and then you'd sit there with your yardstick. When it hit that magic number, you'd shut it off. It was up and down and up and down," said Tom. "And then you get the guys that want top-filled, so you'd stick the hose in, and you hope the hose stayed when you climbed down to turn your pump on. Technology helped there tremendously. You go down there and it's all computerized and it's all automated."
While Tom's impact on the company includes maintaining anhydrous equipment, he has also had the opportunity to work with many excellent employees. "The most rewarding part of my career has been meeting people," said Tom.
Rewarding for Tom and impactful on those that have worked alongside him, including Miguel Rios, shop laborer. "He helped me a lot since I first started here 10 years ago," said Miguel. "He taught me how to do this job, fix toolbars, tanks, to do maintenance. When I asked him a question, he always tried to help me find the right answer. He's been a good partner, and I wish him good luck."