Efficiency is the name of the game in manure application; however, it's challenging to keep things moving if you're dealing with pit trash. Not only can unwanted debris slow you down with blockages, but a plugged nozzle can also cause uneven flow and streaking in the field. Fortunately, we have three solutions to help cut down on trash in your manure system.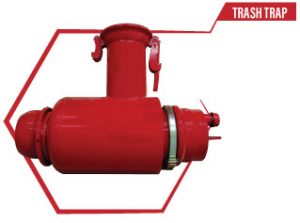 The trash trap, which fits in the line between the pump and load stand, has several removable screen options to remove trash from manure. This option is great for occasional or light trash situations. If your pit is fairly clean, the screen should only need to be cleaned once per building. The trash trap is very effective and stops most of the trash that would plug a 3" outlet. However, you must remove the screen from the line to clean it manually, so it's not the best option if the pit is exceptionally trashy.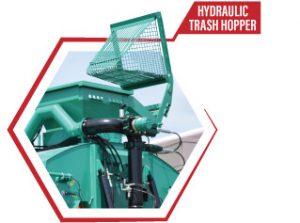 The hydraulic trash hopper, connected on the fill opening of a tank, is a more automated solution than the trash trap. The hydraulics allow you to dump the debris from the tractor seat and does not require hands-on maintenance. Designed to catch larger debris, the trash hopper captures around 90% of trash. However, smaller items can sometimes still slip through the openings.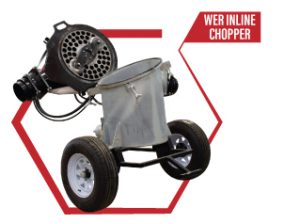 Situated between the agitator/feed pump and the main pressure pump or loadstand, the WER's heavy duty blades chop up garbage as it flows in. The chopper is available in two sizes; the 6"/8" can handle 1500 gal/minute, while the larger 8"/10" flows 2500 gal/minute. To help prevent any jams or blade damage, a reverse valve automatically switches the direction of the motor when larger obstructions are hit. If these larger/heavier materials can't be chopped to fit a 2.5" outlet, they fall into the catchment drum. Cleaning out the catchment drum is pretty simple through the 8" or 10'' access point at the base of the WER chopper. General maintenance is just as handy with the easily accessible top hatch.
We recommend using one of these options along with a mechanical cutter manifold, which offers an additional opportunity to cut down the potential remaining trash. Options for this include the GEA Houle cutter tank manifold, the Bazooka Farmstar tank manifold or the flux drag hose manifold.
For guidance on which solution is best for your trashy pit problem, give our manure equipment team a call, 319.679.2281.
Side Note: We've seen some pretty crazy things over the years, but send us the strangest thing you've found in a pit for a chance to win some Stutsman gear. Pictures can be emailed to [email protected]