Before long, crop dusters will invade Iowa's countryside to deliver one last line of defense. Questions start flying almost as quickly as the planes zipping by. "What is in that plane?" "My neighbor applied, so should I?" "What should my decision be based on?" Or the most frequent of them all, "Does it pay?" Applying mid-season fungicide is something we encourage all growers to consider for the 2018 crop year.
In today's marketing environment, a profit can go from substantial to break-even depending on management practices. Therefore, we need to make decisions based on facts rather than letting our emotions interfere. This is especially the case once July 4th hits and our minds wander to fireworks and vacations, not adding the expense of fungicide to our crops. "Let the crops go" is another way to describe this mindset. After all the time and investment up until July, why give up when there are still defensive actions to be taken?
There are several things you should be considering before making fungicide and pesticide decisions during the mid-season. These decisions, if made correctly on your operation, could take you from breaking even to a very comfortable yield advantage.
Field history and left-over residue can assist you in your decision to apply fungicide in July. Disease can overwinter and survive in residue left over from the previous crop. If you have had disease problems in the past, your chances of seeing future issues are greater.
Do you value standability in your fields come harvest? Standability can be greatly compromised due to disease. Come fall, lodged corn not only reduces your profit, but it also slows harvest down greatly; which is often forgotten when considering fungicide.
Knowing your hybrids and their response to fungicide is important. Seed companies do a good job of illustrating which hybrids are more susceptible to disease and those that have a greater potential for return on fungicide application. Many times, the more aggressive a hybrid is, the more susceptible it is to disease.
Iowa weather is our biggest gamble. Weather can greatly impact disease pressure in our row crops. Flawed planting conditions, early season stress, damp growing conditions, and humid hot days set up an environment in which diseases thrive.
One major thing you must decide early on is if you want to be reactive or proactive. I believe that to reach a crop's true yield potential, it cannot have a bad day. If a bad day comes, the crop is under stress. Stressed crops lead to weakened cell walls which negatively impacts yield. If you choose to be proactive, applying fungicide before issues are visible could give you a great yield advantage.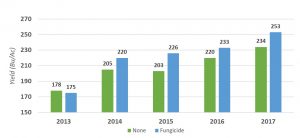 If you are wanting proof that fungicide application has yield advantages, I encourage you to look at the past four years of ProVantage data. For first-year corn (corn following a non-corn crop) in 2017, 5,467 ProVantage acres had fungicide applied with an average yield of 253 bu/acre. 7,925 acres went without fungicide averaging 234 bu/acre. This is a 19-bushel gain with mid-season fungicide application. As the graph shows, we have seen a yield advantage on applied fungicide acres since 2014. We have also been seeing this trend across Iowa and throughout the Mid-West.
My question for you is: how much yield are you leaving out in your field?