By: Tom Miller, Grain Bin & Equipment Sales
Regardless of industry, safety continues to be a major force behind change. Unfortunately, it usually takes an accident of some sort to catalyze improvements. Often overshadowed by more fatal accidents like tractor rollovers, grain entrapments or entanglements in PTO's, falls are still a hazard of the job that plagues producers of all ages.
Luckily, there are some simple safety improvements to help minimize the risk of falls from major heights. Our first suggestion is stairs. Not only are they an economical way to prevent slips and falls when climbing up and working around a grain bin, but stairs can also be installed on existing structures. We have even noticed a trend of stairs being installed on newly erected bins; forgoing the ladder option altogether.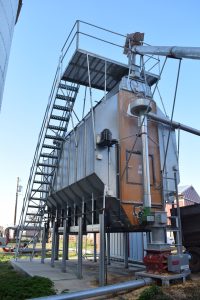 In addition to stairs, there are several other ways to improve the safety of your grain bin set up. Roof ladder handrails, cat-walks between bins, and adding work platforms all will help increase overall safety and prevent tragedies before they strike.
Since bin set-ups vary from operation to operation, we can even customize cat-walks and stairs to your individual needs. For more information on the brand of stairs we carry & install (Greene Galvanized Stairs) as well as a customized safety solution for your operation, reach out to Tom Miller or Roger Slaughter.