This edition's employee spotlight features our Precision Ag Specialist, Jenny Miller! Jenny first joined the Stutsman team in 2007 as a receptionist, then took over the retail agronomy billing in 2011 after taking some accounting classes. When the opportunity arose for her current position in 2019, Jenny jumped in and has loved getting to see an agronomy order come full circle. From the initial customer phone call, to the dispatching of an applicator, and finally the creation of an invoice, she's been there.
Some of her other job responsibilities include sending mix tickets, exporting prescriptions to machines, facilitating soil samples, ensuring applicator and handler licensure  compliance, and providing support to agronomy customers and the billing team. Jenny has also been dedicated to supporting the ProVantage program through data entry and the creation of planting and harvest books. She finds the data analytics aspect of her job especially exciting. "Digging into years' worth of data can be a lot of fun," Jenny shared. "Putting it to use is the icing on the cake!"
When Jenny isn't hard at work on the agronomy team, she can be found with her family. She resides in Kalona with her husband Dane and two sons. Together they enjoy cycling, camping and waterparks! Some of Jenny's other hobbies include gardening, cooking and spending time outdoors.
If you had to be a product that you work with, what would you be and why?
An adding machine. It is fast, precise and straight to the point.
If you could snap your fingers and become an expert at something, what would it be?
Horticulture: my garden & houseplants would probably thank me.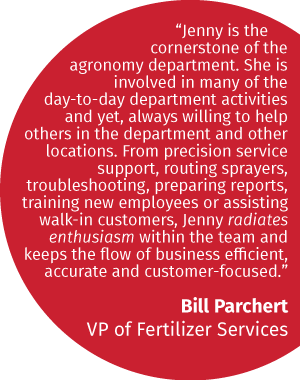 What do you consider to be the most rewarding part of your job?
Working with customers! From first meeting them on the phones when I was a receptionist all those years ago, to now working with them in operations. It has been a joy to maintain those relationships.
What is your favorite season to work in?
Fall. It's a little less hectic than spring, but busy enough to keep me on my toes.
What is your proudest accomplishment?
Becoming a mom to my two sons!
What is something random that most people do not know about you?
I play the piano.
What is the best advice you have ever been given?
Never stop learning!
What is at the top of your bucket list?
Traveling Europe by train.
Which Stutsman Core Value means the most to you and why?
Instill authenticity. Being accountable to my team and our customers is what drives me.