If you live in our neck of the woods (SE Iowa) and are in the row crop world, there's a chance you've heard of, or worked with Randy Bral. This Marengo native has built quite the loyal customer base throughout the years, thanks to his unwavering dedication and outstanding service to his growers. After spending the last four years with K&B Ag Supply, Randy is riding off into retirement on January 1, 2022.
After being an owner/operator (livestock and flatbed hauling predominantly) for 13 years, Randy bought a sprayer and started his custom application business in 1987. He spent another 13 years as AgVantage FS's contract sprayer before he transitioned to a full-time agronomy sales position. Randy's experience as an applicator paired with his devotion to his customers quickly made him a "go-to" for many row crop farmers.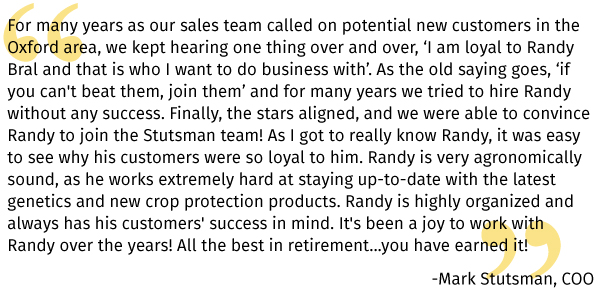 While reflecting on his career in the ag industry, he said the most rewarding part has been working with patrons and building relationships with them for over 30 years. Plus, knowing that he did his absolute best to serve them. Randy also noted that the industry's biggest change has been the recent high input prices; "I didn't think I would see this again after we got through 2008."
Although Randy admitted he's going to miss talking to customers that he's worked with for years, he is excited to have more time to spend with his grandkids, hunting, fishing and riding his motorcycle.