Getting to know, serve, and celebrate the success of our customers is what makes our role in the agriculture industry so rewarding. With that said, it isn't very often that we celebrate a customer's 50th manure tank purchase from us. Dean Wurzer, co-owner of D&J pumping, will be receiving his 50th GEA Houle tank in early September.
Dean, a golf fanatic and family man, always had a niche for custom work, but the manure hauling/pumping business idea came after Dean started managing a couple of hog barns near his home. After weighing his options on what to do with the manure, he thought instead of hiring someone to pump out his pits, he could be doing this himself while adding another form of custom work to his list. In 1996, Dean partnered with his brother-in-law, Jeff Vansickle, to form D&J Pumping.
When looking for equipment to kickstart their business, they liked the variety of tank options and the experience Stutsman's offered. After one trip to Hills to meet with John Yoder and Mike Strait, Dean was sold. They purchased two 6000 series Houle tanks with double axles to start their pumping business. At the time, no one could begin to guess how D&J Pumping would grow but after year three, they purchased their third Houle tank. Today, the business runs 10 GEA Houle tanks.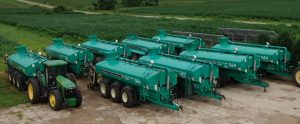 In Dean's opinion, they got lucky from the start going with the Houle brand. "It is one of the better decisions we have ever made." They now run 7300 triple axle tanks with wider than normal axle spacing. Dean says the new 7300s they are custom ordering today are his favorite tanks so far. "The old 6000s were rough on driveways and left pretty good ruts in fields. The new tanks are so smooth and very nice to pull."
As D&J Pumping grew, Jeff brought on a dragline system early on while Dean managed the tank side of the operation. But as their kids started coming back to join the business, Dean and Jeff decided to split off into two separate operations in 2005. Brad Wurzer, Dean's son, has worked alongside his Dad since 2000 and became co-owner in 2010.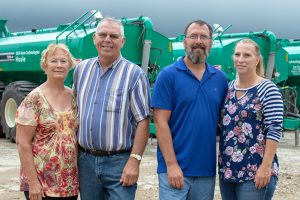 Dean and Brad's business runs a little bit different than most custom manure operations. D&J Pumping owns the tanks, but they don't own the tractors. Their tractor drivers, who own the tractors, get paid for the hours put on their machines. Dean and Brad also run all ten tanks at the same building. That means the barn is only open for about 4 hours before they move to the next building. "It is a very organized and efficient operation. These guys definitely know how to move manure," said Mike Strait, manure equipment salesman. That certainly is the case as they average 80 million gallons of manure applied in a year. Although most of their business is hogs, they do a little dairy work and believe it or not, mink. Fun fact: their mink customer has an outside pit they empty two times a year for a total of 200,000 gallons.
Getting the opportunity to serve D&J Pumping for success and watching their operation evolve over the years has been enjoyable. We are certainly grateful to celebrate our long partnership and the Wurzer's 50th tank milestone.