Some of life's best adventures are unplanned. This was certainly the case for Ed Miller's path into the agriculture industry. Although he grew up on a small Iowa farm in Clark County, he never considered agriculture to be the career path for him. This all changed the summer of 1972, as he sat behind the wheel of a 1456 International pulling a 20′ disc. Now, 46 years later, Ed's career in agriculture is ending and we are honored to have been a part of it.
You could say that Ed's habit of not planning started the day he was born. "I was born in a blizzard on Friday the Thirteenth, February 1953." Growing up, Ed became very familiar with his family's 260-acre farm where they raised beef and dairy cattle, hogs, corn, and hay. Just two weeks prior to his high school graduation from Interstate 35 in Truro, Ed decided to pursue a forestry degree at Iowa State University.
Although some thought forestry was an unusual choice, Ed didn't mind. He was just certain that any sort of career in traditional agriculture wasn't for him. That was before an opportunity presented itself following his freshman year of college. A neighbor from back home, who had a large farming operation, approached Ed about working for him over the summer. Ed thought the extra money could help pay his way through college, so he accepted the offer.
That summer, Ed became a part of their family. "They instilled their love for farming and agriculture in me. They showed me the importance of getting involved and serving the community through agriculture." When summer ended, all Ed's uncertainties about a career in agriculture were ridden. After returning to Iowa State in the fall, he immediately changed his major. In 1976, Ed graduated from ISU with degrees in agricultural business and agricultural education as well as a double minor in agronomy and marketing.
Ed's first job after college was teaching Vocational Agriculture at Lone Tree High School. He loved working with students, (and still does) but he knew it wasn't his lifetime career. After 4 years in the public school system, Ed put in his resignation with no plan of what would come next. (Are you starting to catch on to the pattern here?) Little did Ed know, many of his students would later become fellow employees and customers.
A part-time job helping another local ag retailer kept Ed busy that following fall. When fertilizer work ended, the owner instructed Ed to contact Ron Stutsman. This wasn't the first time Ed had heard this suggestion, so he made the call. He would later receive a position at Stutsmans January 1981 loading trucks and unloading rail cars. "I will never forget those 100-pound burlap bags of bran!"
From there Ed's career with Stutsmans flourished. 37 years with a family owned company has gained Ed experience in billing, selling equipment, giving fertilizer recommendations, soil sampling, selling wholesale fertilizer, representing our company at national conventions and so much more. Ed has greatly enjoyed the relationships that his career has brought him over the years. He has also enjoyed watching the company grow and expand their offerings. "I went from being number 13 on the time clock to walking into the shop and not knowing a single person. It is a great problem to have but things have certainly changed."
Surprisingly, Ed does have a few plans for retirement! He plans to spend time enjoying his wife Deb, son Eric, daughter-in-law Anna, and grandson Julian. Traveling to Australia or New Zealand are just a few of the places Ed would like to explore. He would also like to take a trip to Alaska, driving the whole way so he can see everything in between here and there. Renewing his hot air balloon license and flying his balloon, Prairie Light, also made the list. Although Ed is afraid of heights, he claims flying his balloon is the most amazing thing he has ever done. Last but certainly not least, Ed would like to enjoy his retirement by getting to plant his corn on time! This is one task that has gone by the wayside over the years as his customers have always come first.
Ed's career is a great reflection of the Stutsman Core Values. Throughout the years he took the lead not only around the company but by getting active
with the Agribusiness Association of Iowa. He also exemplified value collaboration as he was always assisting other departments and lending a helping hand anytime he could.
"Ed gave his extra effort to help the customer in need. He was authentic in his actions and always took pride in his work. He has exceeded our expectations and I hope that he has exceeded yours too."-Roger Slaughter, President
From all of us at Stutsmans, we are grateful to have been a part of your unplanned adventure. Congratulations, thank you, and most importantly, enjoy your well-deserved retirement!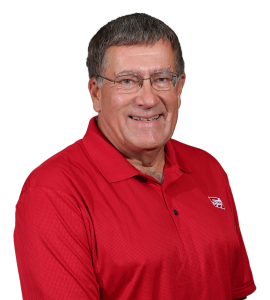 "I would like to give a huge thank you to my customers, coworkers, and the Stutsman organization for all the opportunities over the last 37 years. You all have been a much bigger reward than the paycheck, which is why I have not retired before now. I will miss the people, the industry, and this company greatly."