We are excited to announce Brenton Rice, Logistics Specialist, has received the ICR All Star Honorable Mention Transportation Award. This honor, sponsored by Kirkwood Corporate Training, reflects Brenton's work ethic and talent in transportation and logistics.
Stutsman Logistics participates in the Kirkwood Corporate Training program, which helps local businesses with community awareness, employee recruitment and retention. Being a part of this program helps Stutsman Logistics overcome the current challenges of the trucking and logistics industries.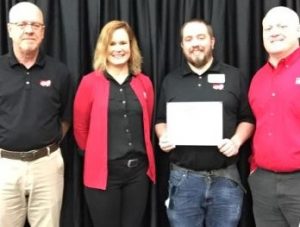 To qualify for this peer-nominated award, recipients must be 35 or younger and have been working for their current employer for at least a year. Brenton was among the 13 winners from 6 different industries receiving the ICR All-Star Honorable Mention Award. Brenton's coworkers believe he's been an all-star all along, see why!
"Brenton displays great leadership daily along with unmatched industry knowledge. Working alongside him, he's always been a great source to run ideas by and helps me work through the daily challenges presented in our industry. Not only is Brenton great at developing relationships with transportation companies, he's also extremely knowledgeable with the operational side of logistics.
For the future, Stutsman Logistics is in a great position due to all-stars like Brenton. Our company's core values are exactly what Brenton brings to the office daily. He excels in setting the bar higher, not only for himself but also for our customers' experiences. Serving the needs of our customers, providing excellent service, and keeping up great relationships with transportation companies is a tough task to complete, but Brenton makes it happen.
Finally, Brenton radiates enthusiasm when he walks into the office. Logistics presents many unique challenges and can easily create immediate negative thoughts. Brenton works through challenges with a positive attitude and always comes up with excellent solutions. He is without a doubt an all-star in the transportation industry and is a perfect candidate for this award. Transportation needs more driven, highly passionate individuals like Brenton taking the lead for the future of the industry." – Ben Dombroski, Logistics Specialist
"A 10-year industry veteran, Brenton is a selfless professional who embodies what it means to be a teacher, trainer, and teammate. His outstanding customer service is a key reason why our customers continue to trust us for their most pressing transportation and logistics needs.
Brenton started in the industry as an individual contributor, sourcing trucking companies and working with truck drivers.  His managers quickly discovered he had a knack for selecting the best solution for our customers' businesses. As Brenton's skills developed, so did his responsibilities. After being with Stutsman Logistics for only one month, he was asked to train our newest employee and he eagerly agreed. He's always willing to take on more responsibilities while maintaining his current workload.
Brenton is steady and remains focused on creating maximum benefit for our organization. He radiates enthusiasm and positivity each day and doesn't get down when the unexpected happens. Brenton learns from his experiences and is well rounded, trusted and dependable." – Rachel Barnhart, Account Executive
"Brenton has shown since day one of joining Stutsman Logistics his enthusiasm to be a team player and work toward the success of our company. Brenton treats customers, carriers and his fellow employees with courtesy and respect. He is liked by all and always willing to lend a hand to help others. Brenton is a great asset to our company and we are lucky to have him on the team." – Kirk Bendixsen, Logistics Specialist