Each year, we enjoy having interns on the team and watching their growth throughout the summer. Not even a pandemic could stop 2020 interns Zachary Badtram and Parker Werling from serving our customers, conquering an escape room, and broadening their agricultural experiences. On top of their daily crop scouting responsibilities, the interns researched, experimented, and prepared presentations for their end of summer capstone projects. Take a look!
Avail®T5  | Zachary Badtram's Capstone Project
Phosphorus availability is a common nutrient problem; in fact, 60%-90% of phosphorus in the soil is lost due to fixation. Zach researched Avail®T5 to see how it performed in our test plots. This product is a phosphorus fertilizer enhancer designed to reduce the fixation of applied phosphorus. Avail®T5 is available in both liquid and granular forms. It is added to bulk fertilizer for early spring application.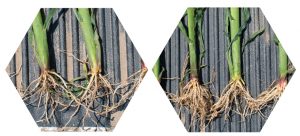 This product works by creating a negatively charged shield around phosphorus, allowing it to react with the positive ions in the soil, including magnesium, aluminum, and iron. This results in more available phosphorus, which promotes stronger root systems, higher early-season performance, and improved plant stress tolerance; Zach's root digs backed this up. Avail®T5 research also shows a yield bump; a 3.8% increase with the granular form and a 2.4% increase with the liquid product.
SALTRO™ | Parker Werling's Capstone Project
Parker researched the soybean seed treatment Saltro™, which protects against sudden death syndrome, also known as SDS. This yield-devastating disease infects the plant early, although symptoms don't appear until later in the season. While ILeVO® seed treatment is an option to stop SDS, its active ingredient fluopyram is difficult for soybeans to metabolize. This results in the 'halo effect' on the cotyledons, which causes unnecessary stress on the plant during the critical early-growth stage that can affect yield potential. Soybeans eventually recover from this above-ground stress, but below the surface, a stunted root system remains.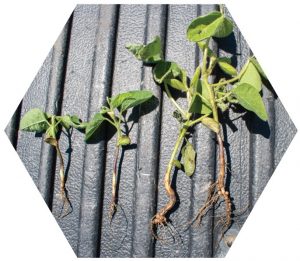 Meanwhile, Saltro's™ active ingredient, adepidyn, provides SDS protection without causing above or below-ground stress. In addition to improved plant performance, Saltro™ research shows more power against the pathogen, as well as a 4 bushel/acre yield bump against its competitor. Parker spent time scouting and comparing root digs, particularly on the side-by-side plots of Saltro treated, ILeVO® treated, and untreated beans. She found a noticeable difference in overall plant health and growth as well as a more advanced root structure in the Saltro™ treated samples.
Although Zach and Parker have returned to school and won't get to continue their research, we are looking forward to seeing how these test plots perform as we close out this growing season.